One of our favorite things about the holiday season is that it provides different delights for different people. Some of us look forward to the inaugural lighting of the Rockefeller Center Christmas Tree each year; while others will enlist the family to turn off Netflix and boot up basic cable for the first time in 11 ½ months to watch How the Grinch Stole Christmas on NBC (commercials are part of the tradition, people!).
Whichever way you wrap it, the holidays offer every person something uniquely special to look forward to. This holiday season, Boqueria is embracing that tradition by offering special gifts for every person – and every budget.
BOQUERIA GIFT CARD – FOR THE FOODIE
Starting at $15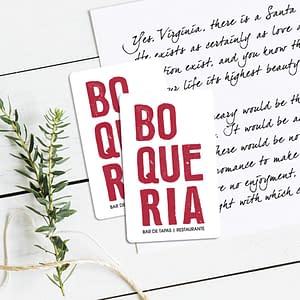 Everyone knows that the best kind of holiday card is a gift card! Gift a loved one a taste of Spain by ordering them a Boqueria Gift Card (available from $15). Add a personal touch with a custom message or have the gift card sent directly to the recipient.
Feeling particularly generous this year? Well, you deserve a treat! Now through the end of December, buy someone you love a $100 gift card and get a $20 gift card for yourself. Lucky Them, Lucky You!
COOKBOOK – FOR THE CHEF
Via Amazon – $17  
A signed copy from the restaurant – $40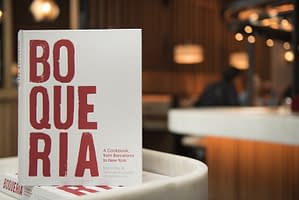 In our new book, Boqueria: A Cookbook from Barcelona To New York, we swing open the kitchen doors to give readers a glimpse into our restaurants and the markets, locales, and people that inspired them. We hope that these recipes, all tested in Chef's Marc's own apartment kitchen, will inspire some delicious new holiday traditions in your home!
WINE EXPERIENCES – FOR THE OENOPHILE
Dinner and Wine pairings starting at $116 per person
Three unique experiences take you on a tour through Spanish wine country; enjoying 5 wines expertly paired with a Chef's selection of classic Spanish tapas and seasonally inspired dishes. 
Every time we uncork a bottle of Tempranillo, we watch the beauty of Rioja spill out into the glasses in front of us. That magic happens with every wine on our list. They all come from Spain, and each bottle holds a message from its origin. Crisp, white Albariño speaks in a sea-salty lilt from Galicia's green coast. A ripe Catalan Cariñena finds its voice in the stony aromas and rugged tannins inherited from the craggy slate cliffs and toasty afternoons of Priorat. Each sip of these wines brings back sweet memories of Spain.  
CULINARY TOUR OF BARCELONA AND CATALUÑA COUNTRYSIDE – FOR THE GLOBETROTTER
Double Occupancy – $4,913 per person
Single and Ready to Mingle – $5,430 per person
Join Chef Marc Vidal and founder Yann de Rochefort on a trip to Barcelona and the Cataluña countryside to explore the culinary delights of the city, their favorite haunts, and points of inspiration: the cobblestone streets of 'el Born', the bustling aisles of the Boqueria market, and restaurants serving a wide range of food from rural Catalan fare to cutting-edge, modern cuisine. Highlights of the 9 day/8 night excursion include Lunch a 1* Michelin restaurant Can Jubany, a stay at the Vichy Catalan Hotel and Spa, private tour and vineyard lunch at a Penedès winery, and a tasting menu prepared by Albert Adrià at the famed Tickets Tapas bar.