FOR THE COOK
Boqueria Cookbook
What we love about cooking is the way it brings family and friends together. We hope that these recipes and their origin stories will allow you to bring a bit of the Boqueria experience to your very own kitchen, and that the cooking, the conversations, and the connections they inspire will become part of your life as they have ours.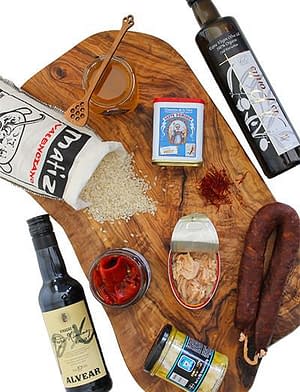 This set includes the essential building blocks to make the recipes in our cookbook come to life. Basket highlights include:
A good olive oil is essential to Spanish cooking and the base for almost every recipe in our cookbook
A splash of sherry vinegar brightens up most recipes – adding a depth of flavor, a touch of acidity and a hint of sweetness.
Bomba rice – this short-grain Spanish rice is the cornerstone (or cornergrain, morelike) of a good Paella; it soaks up the flavors of the rich lobster stock and variety of shellfish in our seafood paella and creates the base of our perfectly crispy socarrat at the bottom of the pan.
Saffron: Made from the dried stigmas of the crocus flowers that bloom each
fall in the fields of Castilla La Mancha. Each blossom has only three stigmas, and these are picked by hand right after the flowers come up but just before the petals open. That's why the sunset-orange threads cost so much! But this prized ingredient is definitely worth the occasional splurge, as it imparts a distinctive honeyed floral aroma and a unique bittersweet taste that simply has no parallel.
Pimentón: Spain's most utilized spice. This bright red paprika lends its flavor to innumerable classic dishes. In Galicia, it is dusted on octopus; in Rioja, it clings to the region's famous Patatas a la Riojana; and all over Spain, it flavors stews and adds the finishing touch to montados. Chorizo, sobrasada, and all the other vibrant red sausages of Spain, fresh or cured, get their stunning color and deep flavor from it.
Chorizo: In shops and market stalls throughout Spain, "carniceros" (butchers) hawk a wide variety of fresh and cured pork sausages. Dozens of cured chorizos, the most popular variety, hang from the rafters of every butcher shop. The bright red pork sausage gets its color and much of its flavor from pimentón. The texture is similar to a cured salami, but the flavor is much smokier. The most delicious varieties are made from the same acorn-fed Ibérico pigs as Spain's premium Ibérico ham.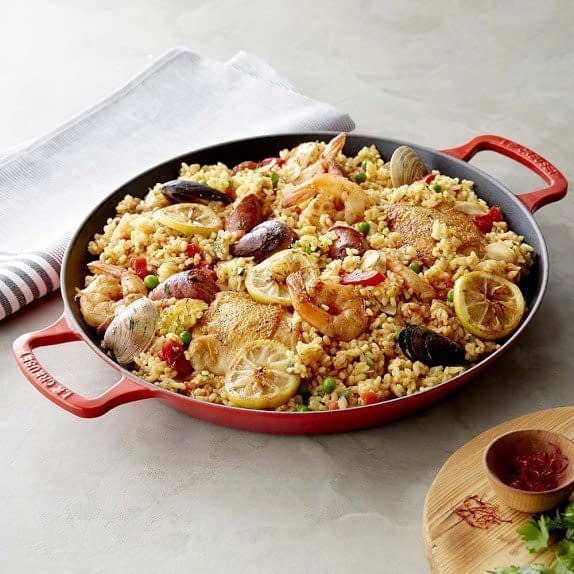 The mark of a good Spanish paella is the socarrat; the layer of crispy toasted rice at the bottom of the pan — a finish delivered beautifully by Le Creuset's enameled paella pan. Enameled cast iron ensures even cooking temperatures; cooking your paella to perfection on either the stovetop or outdoor grill, and staying warm for serving at the table.
Forgo the usual cook's apron and dress up the occasion with this apron by Mariana Velasquez (the talented food and prop stylist we worked with on our cookbook). The unique shape, colors and fabrics embody her passion for design, cooking, fashion, and hosting.
FOR THE ENTERTAINER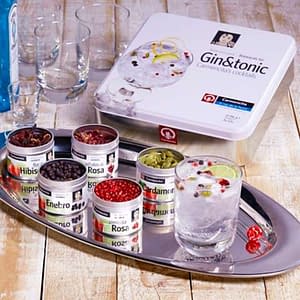 A cocktail perfect for at-home entertaining; seemingly basic and easy to put together but one with endless variations. The iconic Spanish spirit pairs 1 of the 4 basic styles of gin (London Dry, Old Tom, Plymouth, Genever), a tonic that lifts the alcohol and a botanical that highlights those used in the gin base. This gift tin from La Tienda is a must for the gin and tonic aficionado. Five metal jars of botanicals open the secret to making premium G&Ts. The featured botanicals include juniper berries, pink peppercorns, cardamom, hibiscus flowers, and rose petals. Each one infuses a gin and tonic with a subtle aroma and complexity.
Paired with a bottle of Gin Mare made just south of Barcelona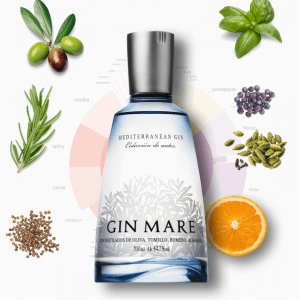 Distilled in the small fishing port of Vilanova i la Geltrú, 30 miles south of Barcelona, Gin Mare is herbal with a zesty finish. Drinking Gin Mare will transport you to the Mediterranean coast at the height of summertime. There are a variety of Spanish brands to consider – this article from Seveur highlights some of our favorites.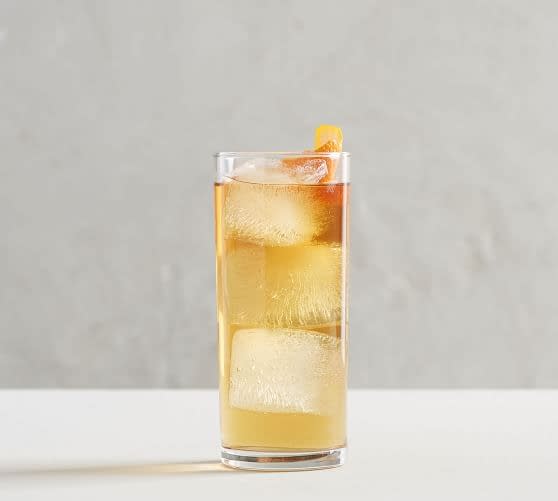 Thoughts on the best glass shape and size in which to serve a Gin and Tonic vary both by region and by bartender. In Spain, a copa glass (or balloon glass) is preferred – it's a showy option that keeps the botanical aromas neatly contained in the vessel, while in the US a standard collins glass is much more common. If you ask us, we'd argue that there's no wrong way to sip on a gin and tonic…but that's no reason why you shouldn't enjoy one in style! We love this particular glassware line for it's everyday approach that is timeless and classic, and the variety of options available (rocks, highball and wine) to showcase your G&T creation in sophisticated style.
FOR THE TRAVELER
Spark her curiosity with a book to inspire travel abroad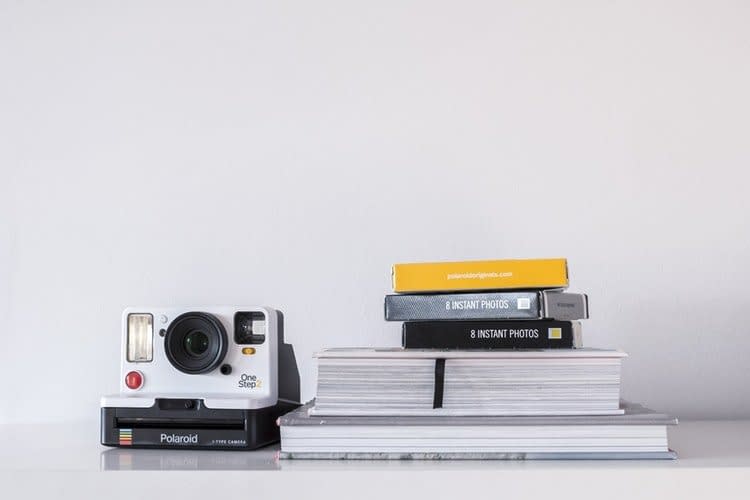 36 Hours 125 Weekends in Europe by Barbara Ireland
Stylishly written and carefully researched, this volume is chock-full of ideas for exciting weekends of travel and hundreds of photographs to fire up your imagination.
Ibizia Bohemia by Jun Lee
An introduction to Ibiza's Spanish-hippie-chic hallmark atmosphere will inspire an exploration of the island's scenic Balearic cliffs, its legendary cast of characters, and the archetypal interiors that define its signature style.
The Shadow of the Wind by Carlos Ruiz Zafón
A New York Times bestseller for the fantasy, historical fiction, and avid book lover. The Shadow of the Wind takes place in post-Spanish Civil War Barcelona to a world of forgotten books and an innocent quest that opens a door into one of Barcelona's darkest secrets – an epic story of murder, madness and doomed love. (A perfect read for a plane ride to Spain)
Have plans, will travel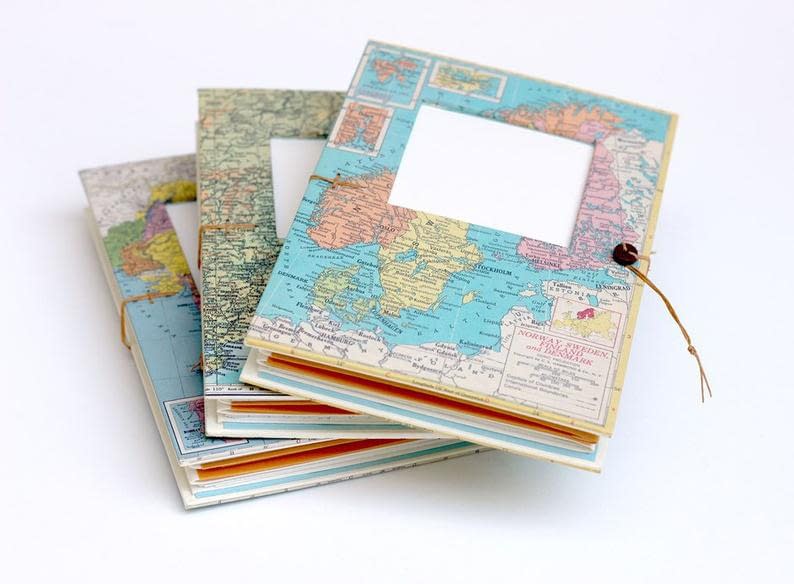 This Personalized Travel Journal from Etsy can be customized with a map of the planned destination and has space for photos and writing, plus pockets and envelopes to save the special mementos of an amazing journey. Be forewarned, the leg of Jamón Ibérico won't fit…
A direct connection
The best gift for anyone traveling to Spain? A direct connection with those in the know! Drop us a line and we'll provide recommendations and tips for our favorite markets, hotels, restaurants and sites from Barcelona to Madrid.