Dreaming of warm getaways will only get you halfway there — the rest is just a waiting game. In the meantime, brighten up your winter blues with these colorful handcrafted cocktails!
RECIPE: The Arcadian
Sip on this perfect pairing of Seedlip's Garden zero-proof distilled 'spirit' with a floral butterfly pea flower tea, honey, fresh lime and a kick of Ginger beer for a vibrant winter fix.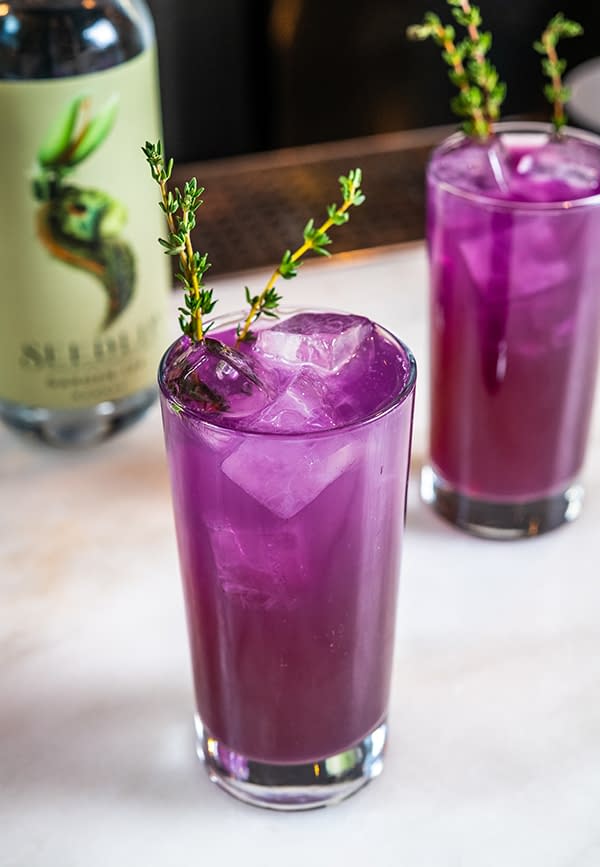 In a tall glass, combine the following:
• 2 oz Seedlip 'Garden'
• 1 oz Rich Honey Syrup
• .75 oz Thyme-Butterfly Pea Flower Tea
• .5 oz Lime Juice
Stir briefly to incorporate, then add:
• 1.5 oz Fever Tree Ginger Beer
Fill glass with ice
Garnish with two full sprigs of thyme
RICH HONEY SYRUP
Combine 1 pint of honey and  3/4 hot water from a tea kettle. Stir while hot to mix thoroughly.
THYME-BUTTERFLY PEA FLOWER TEA
• 1/2 cup thyme sprigs
• 1 pint butterfly pea flowers
Fill a container with hot water from a tea kettle.
Add thyme sprigs, then cover and let sit for exactly 5 minutes.
Add butterfly pea flowers and fill quart container completely with more hot water.
Cover and let sit for exactly 5 more minutes.
Strain twice and store in the refrigerator.
RECIPE: SANGRÍA DE PIÑA A LA PLANCHA – Pineapple Sangría
This savory mexcal and grilled pineapple punch is the perfect nod to the summer barbeque.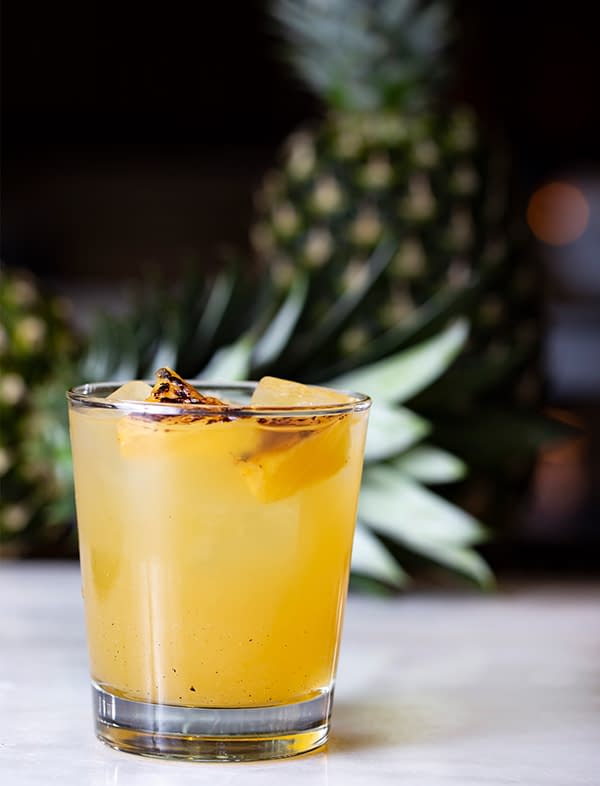 1 pineapple
oil for grilling (optional)
750ml bottle of white wine (such as Viura or Garnacha Blanca)
11oz pineapple juice
5.5oz good-quality bourbon whiskey
1oz Mezcal
4oz Velvet Falernum
1.5oz fresh lemon juice
Peel the pineapple and slice it into 1⁄2-inch-thick rings. Brush a grill with a small amount of cooking oil and heat the grill to hot.
Place the rings directly on to the grill and grill on both sides until slightly charred with grill marks.
Remove, and let cool.
Cut each pineapple ring in half and half again to make quarters. At this point the core can be easily cut off of each piece.
Combine the liquid ingredients in a large container. Add the pineapple wedges, cover and refrigerate. Leave to infuse for at least 10 hours, or overnight.
After infusing, remove the fruit and set aside to use as garnish if desired.