COOKING CLASSES
Bring Boqueria's Recipes Home
Grab an apron, a glass of wine, and make authentic Spanish recipes alongside our expert chefs and like-minded Iberophiles! Our live online cooking classes make it easy, delivering tools and premium shelf-stable ingredients, to guide you through every step of the recipe. Cook along and bring questions about the recipes, Spain, and Boqueria!
While your culinary creation simmers, sit back as your Boqueria host takes you on a journey of Spain through imagery, maps, and stories.
National shipping available.
To ask questions or book a private class for 20 or more guests please contact us at [email protected]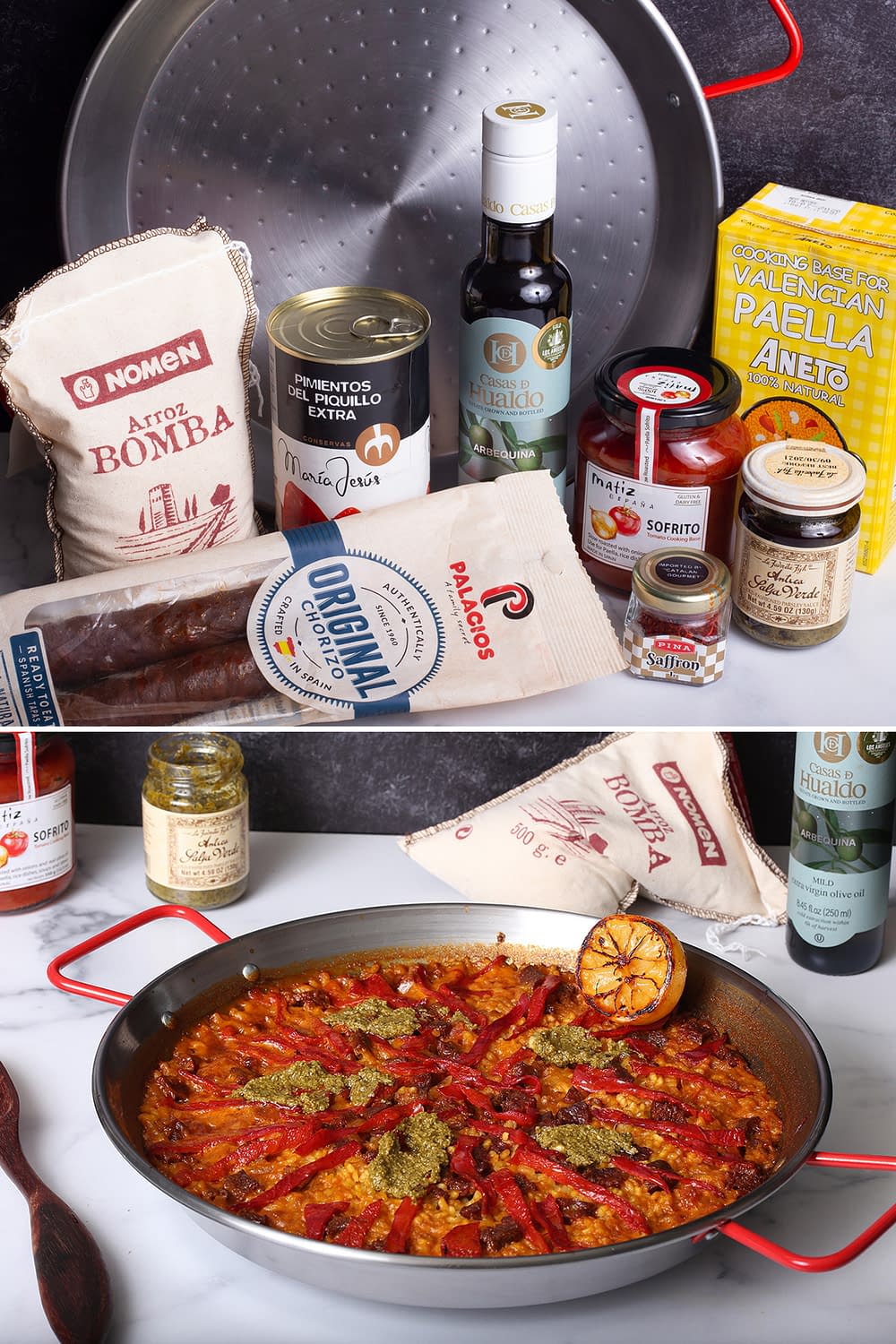 Paella de Chorizo y Piquillo Kit and Class
To a Spaniard, Paella is comfort food, a communal dish to be shared at family gatherings. And while everything about it feels exotic – the wide, shallow pan; the saffron-laced rice; the rich seafood stock base – it couldn't be easier to make at home. Join us for a virtual cooking class and learn everything you need to know about this National treasure; from the history to the ingredients that make it sing. We'll deliver everything you need to make a paella for two – including the pan!
Included in the kit
• 32cm paella pan
• Nomen Bomba Rice
• Aneto Valencia Paella Stock
• Old Fashion Salsa Verde
• Matiz Sofrito
• Pina Saffron
• Palacios Mild Chorizo
• Casa de Hualdo Arbequina Olive Oil
• Pons Piquillo Peppers
(Ingredients will make paella for two, twice)
Guest Shopping List
• 1 lemon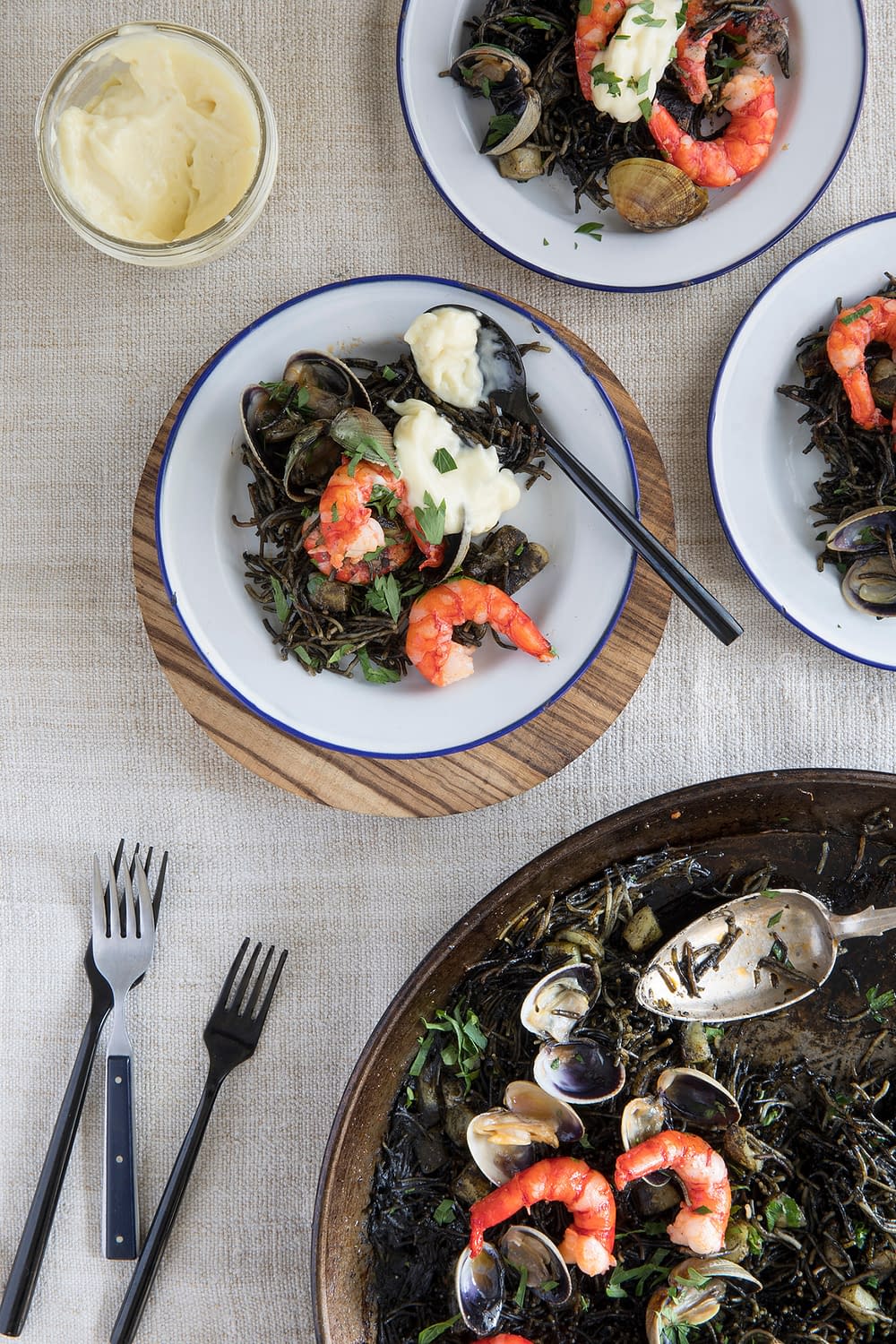 Fideuà Negra
---
Bring home one of our all-time favorite dishes; Fideuà Negra – squid ink and toasted noodle paella. The short vermicelli-like strands are toasted to a golden brown, then simmered in a paella pan with seafood and stock. A dollop of garlic allioli garnishes the crispy top and mixes with the inky paella's gooey center, sweet seafood, and tender noodles to create something truly transporting.
Included in the kit
• 32" steel Pan
• Garlic Allioli
• Fideo Noodles
• Piquillo Peppers
• Olive Oil
• Sofrito
• Stock
• Squid Ink
Guest Shopping List
• 12 clams
• 12 shrimp
• 3 oz of squid, tentacles, and rings
• 1 small bunch of chives
• 1 lemon
• 2 tbsp vegetable oil
Tortilla Española and Sangría
---
Join us for a virtual cooking class where we tackle the iconic Tortilla Española – Spain's beloved potato omelet – and whip up a pitcher of sangria to celebrate the accomplishment. Chefs and cooks throughout Spain have been debating the merits of a proper tortilla for centuries. Some argue it should be nothing more than oil-cooked potatoes in a thick egg omelet. Others demand onions. Join us as we cover these questions and the proper flip – it may seem intimidating, but it's easy once you get the hang of it. In Spain, it's the first dish most kids learn to make at home; if they can do it, you can do it!
Included in the kit
• garlic allioli
• Arbequina olive oil
• Tortilla Española Recipe
• 3 Sangría Recipes (ingredients not included)
Red, Rosé, and Pineapple Sangría
Guest Shopping List
• 5-10 Yukon Gold Potatoes
• 1 Spanish Onions
• 8 Eggs
• 5 cloves of Garlic
• Vegetable Oil for prep
• Spanish Olives
• Chosen Sangría Ingredients