Boqueria: A Cookbook
FROM BARCELONA TO NEW YORK
Boqueria: A Spanish cookbook from Barcelona to New York
After countless days testing Spanish recipes in our home kitchens and recalling stories from the past 10+ years since opening our first Boqueria on 19th Street, we are excited to share this book with you. In the volume of recipes, we highlight the Spanish dishes that have become Boqueria classics, and brought such fond memories to our guests over the years. But it's more than just food— – we also tell the story of the restaurant, which has come to mean so much to us. We feel honored to have been a beloved food destination in NYC for so many years, and to have so many longtime regulars and staff that we now count as family. As much as these recipes are inspired by our fondness for the energy of Spain and our treasured time living there, they are a part of our history now, as well. We hope you enjoy these recipes and their heritage as much as we do!
A sample of recipes from the cookbook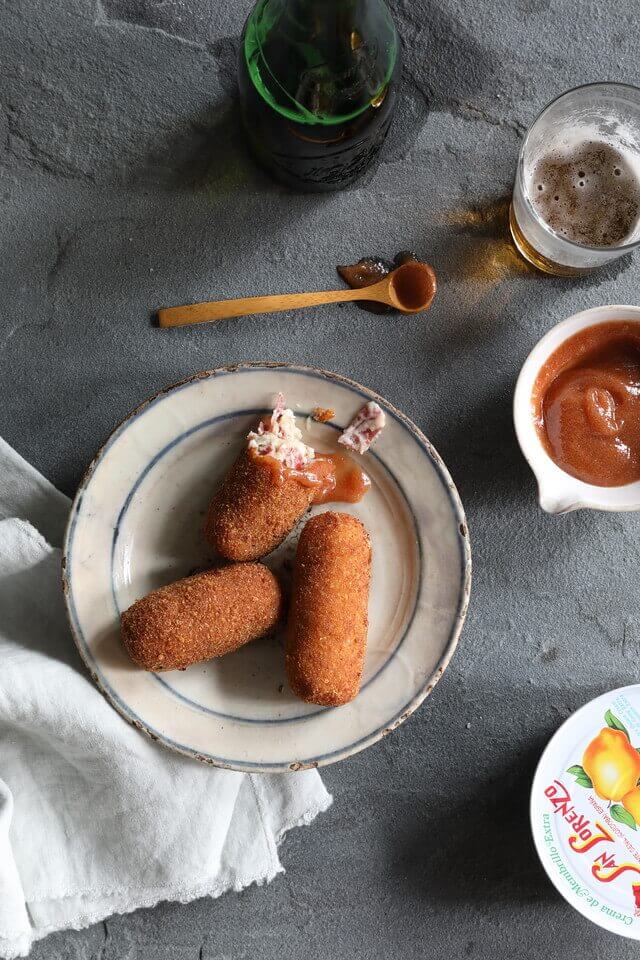 CROQUETAS DE JAMÓN IBÉRICO
Iberian Ham Croquettes
---
Marc arrived at Boqueria eager to add new dishes to the menu, but his most important mission was to pick apart and perfect Boqueria guest favorites. He obsessed over the croquetas. He knew that a passable croqueta could still be easy to love, but that an expertly executed croqueta is an irresistible glimpse into another dimension. Heaven, breaded and fried.
The barometer of a Spanish restaurant, croquetas may not be the flashiest item on the menu, but they'll tell you how good the kitchen is. From the breading to the bechamel, everything has to be just right. Marc knew he had to take them up a notch, and almost two years of trial and error, tweaks and adjustments resulted in the recipe we use today.
Perfection perfected comes from great ingredients. In this case, that means that the better the jamon, the better the croquetas. Iberico de bellota is the best you can get, but if you can't find that, go for Serrano. Die-hard Iberophiles might have a whole leg of Ibrico hanging around. If you are so lucky, you can use the o-cuts and trimmings to dice for the filling and you can simmer the bone in the milk for more porky goodness. Otherwise, buy thick slices to cut.
To balance the savory Jamón, we serve the croquetas with a sweet and tangy quince salsa for dipping.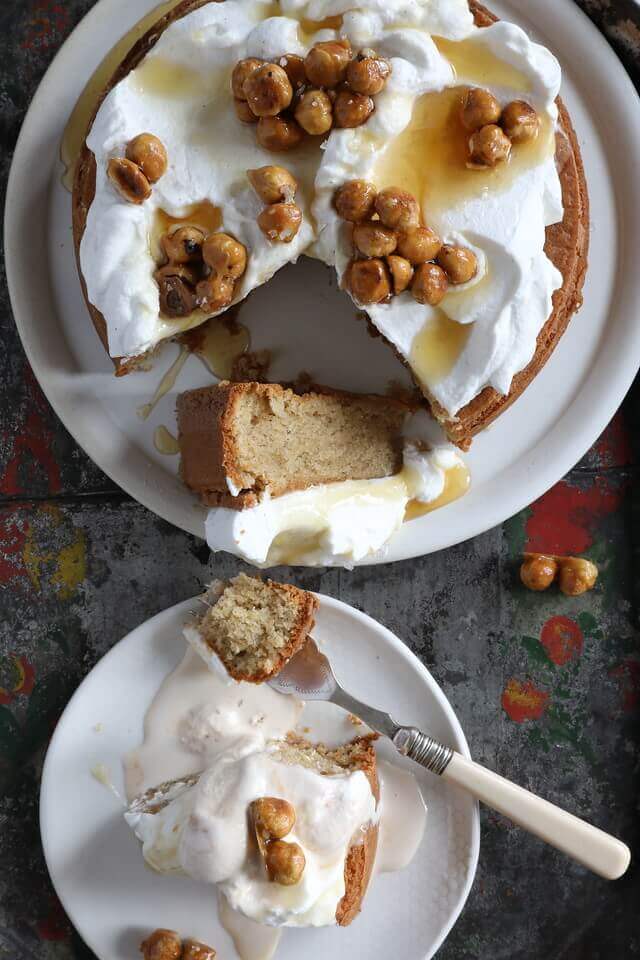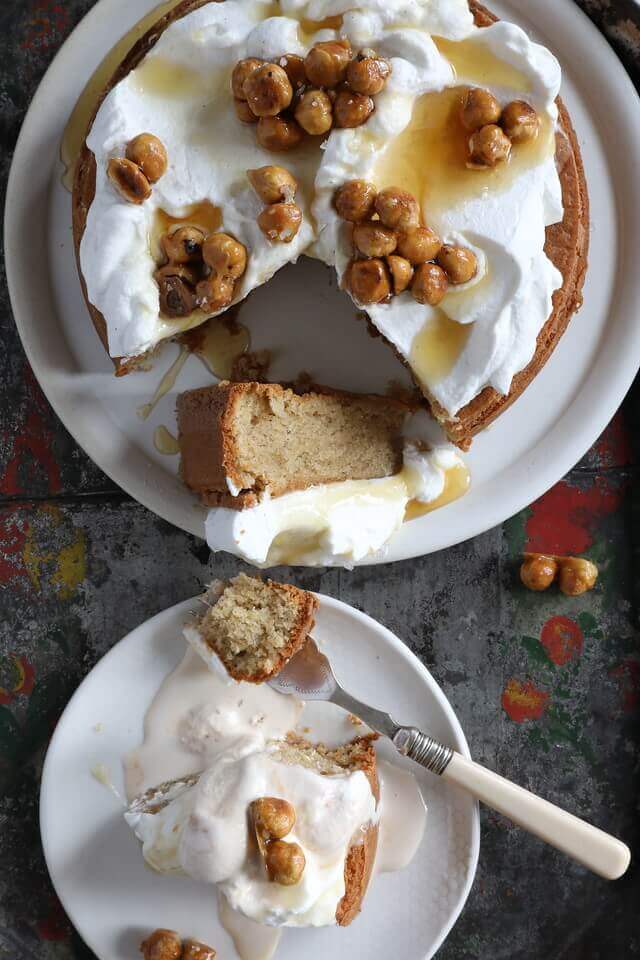 Turrón
HAZELNUT CAKE WITH CARAMELIZED HAZELNUTS
---
We've transformed Spain's iconic nut-studded honey nougat Christmas candy flavors into a tender, buttery, almond-hazelnut cake topped with freshly whipped vanilla cream, candied hazelnuts, a drizzle of honey and a final sprinkle of sea salt to perfectly balance the sweetness.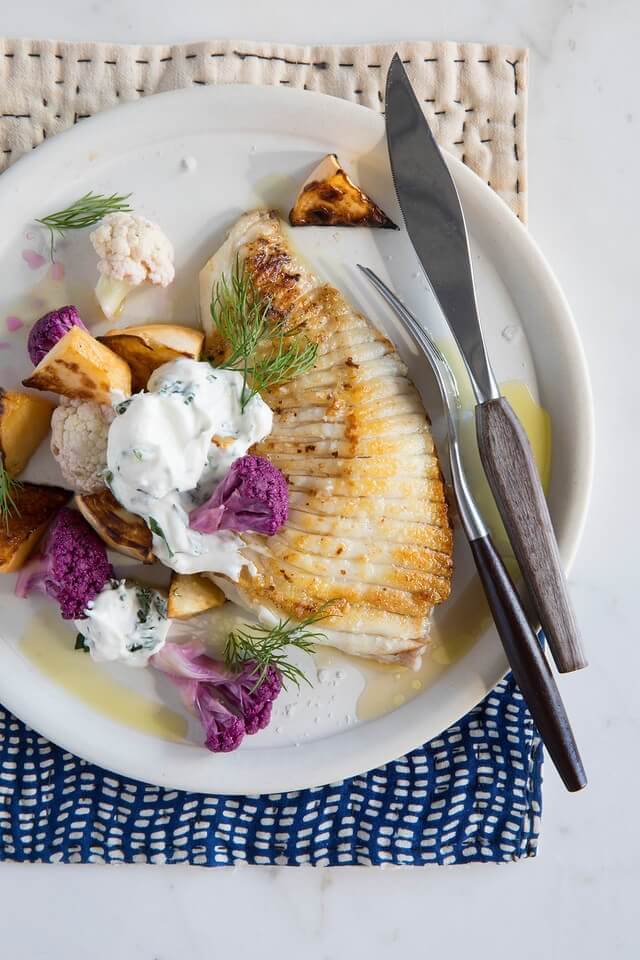 Raya a la Plancha
Seared Skate Wings
---
Come October, we begin our annual ritual of stalking our favorite Greenmarkets for peak-season rutabaga and eagerly awaiting our first haul of freshly caught skate wings of the season. We revive this autumnal ritual every year in anticipation (and celebration) of one of our favorite fall Market Menu dishes: Seared Skate Wings with Rutabaga and Pickled Cauliflower – or perhaps more familiarly to some – 'Raya a la Plancha'.
In this dish, succulent skate wings are seared until delicately browned and served alongside vibrant pickled purple cauliflower, caramelized rutabaga, fragrant dill, and housemade lemony-herbed yogurt.
Notes from our friends and fans of the cookbook
"A sublime collection of traditional Spanish and Tapas recipes. Boqueria captures the soul of Spanish cuisine."
~ James Beard Award-winning chef and cookbook author Alfred Portale
Boqueria has been our neighbor in Soho ever since we first opened our bakery in 2011. What I love most about tapas and the food at Boqueria is that it's meant for sharing and enjoying together with friends and family. It's wonderful that Yann and Marc are now opening up their kitchens to home cooks and sharing these classic recipes with people to recreate and enjoy together at home.
~ Dominique Ansel, Chef/Owner, Dominique Ansel Bakery & Kitchen
"El Mercado de la Boqueria is the heart of Barcelona's markets, and through this bookBoqueria and Marc Vidal have managed to bring this soul to New York and Catalan cuisine to the world."
~ Nandu Jubany, Michelin-Starred Chef of Can Jubany
If you've ever walked Barcelona's Gothic Quarter or San Sebastian's old town, you are familiar with the pure magic of a croqueta, tortilla, or pintxo when done right. Thanks to a chef who carries those traditions in his bones, here are the tools to make those classics and much, much more: an extensive guide to the Spanish table that never intimidates and only invites.
~ Ignacio Mattos, Chef-owner of Estela, Café Altro Paradiso, and Flora Bar
I have seen throughout my life that tapas – sharing many delicious plates – are more than just a meal … they are a way of life. I know that Marc and Yann, and everyone who has been to Boqueria, agrees. This book will let you in on the fun. ¡Salud!
~ José Andrés, Chef/Owner, ThinkFoodGroup & minibar by José Andrés

@Boqueria
Lively, Barcelona-style tapas bar in NYC and Washington D.C.