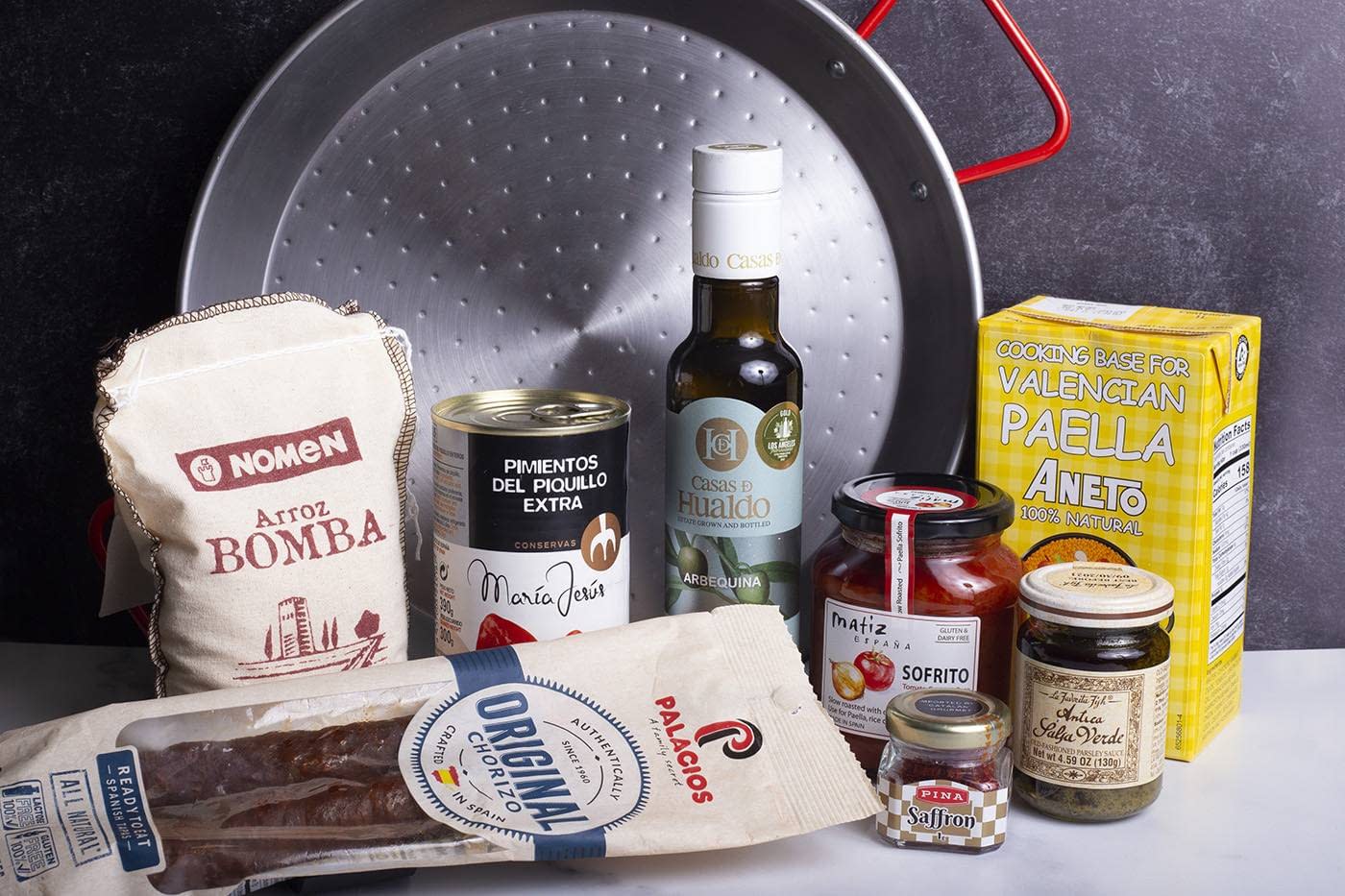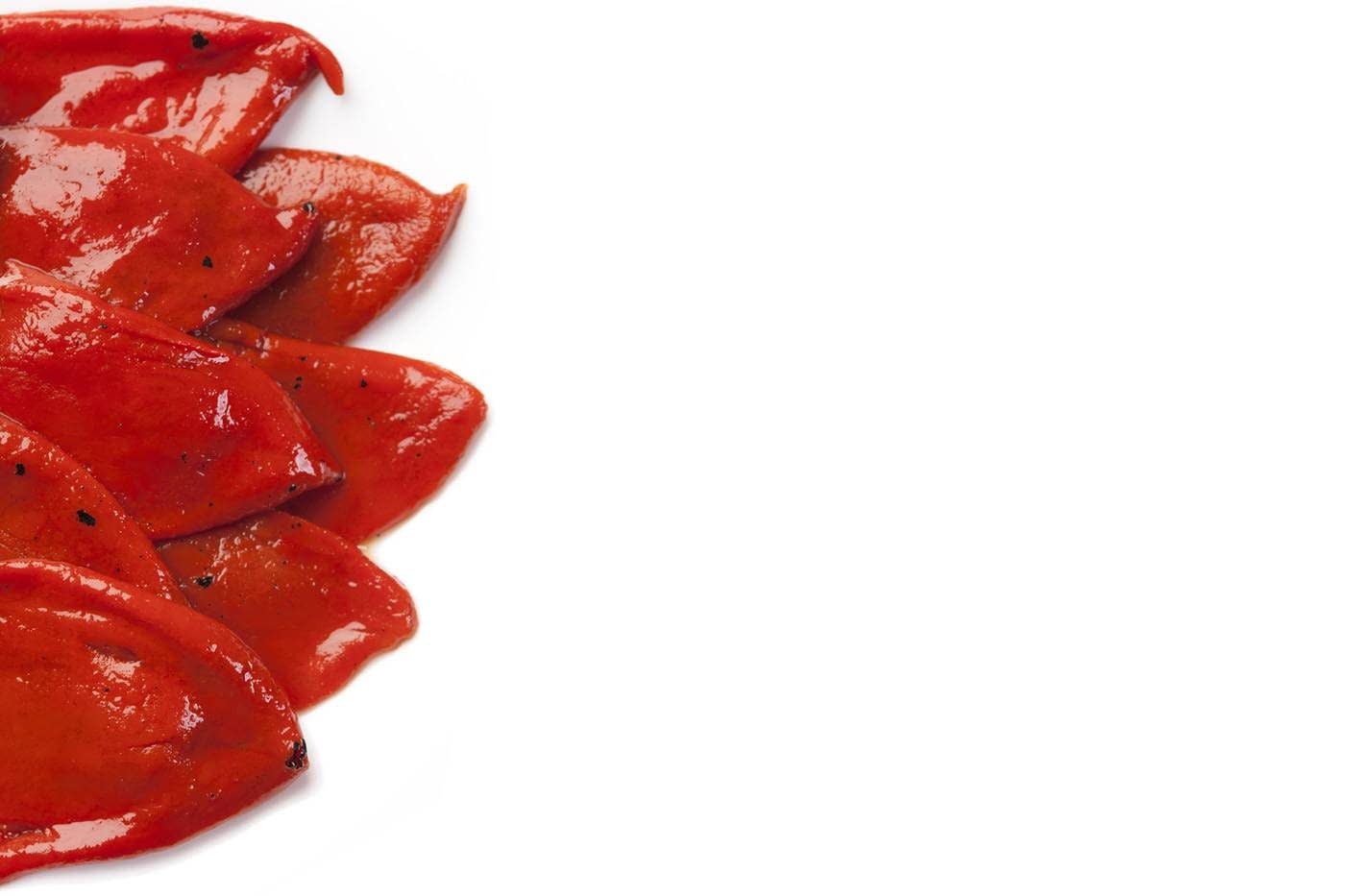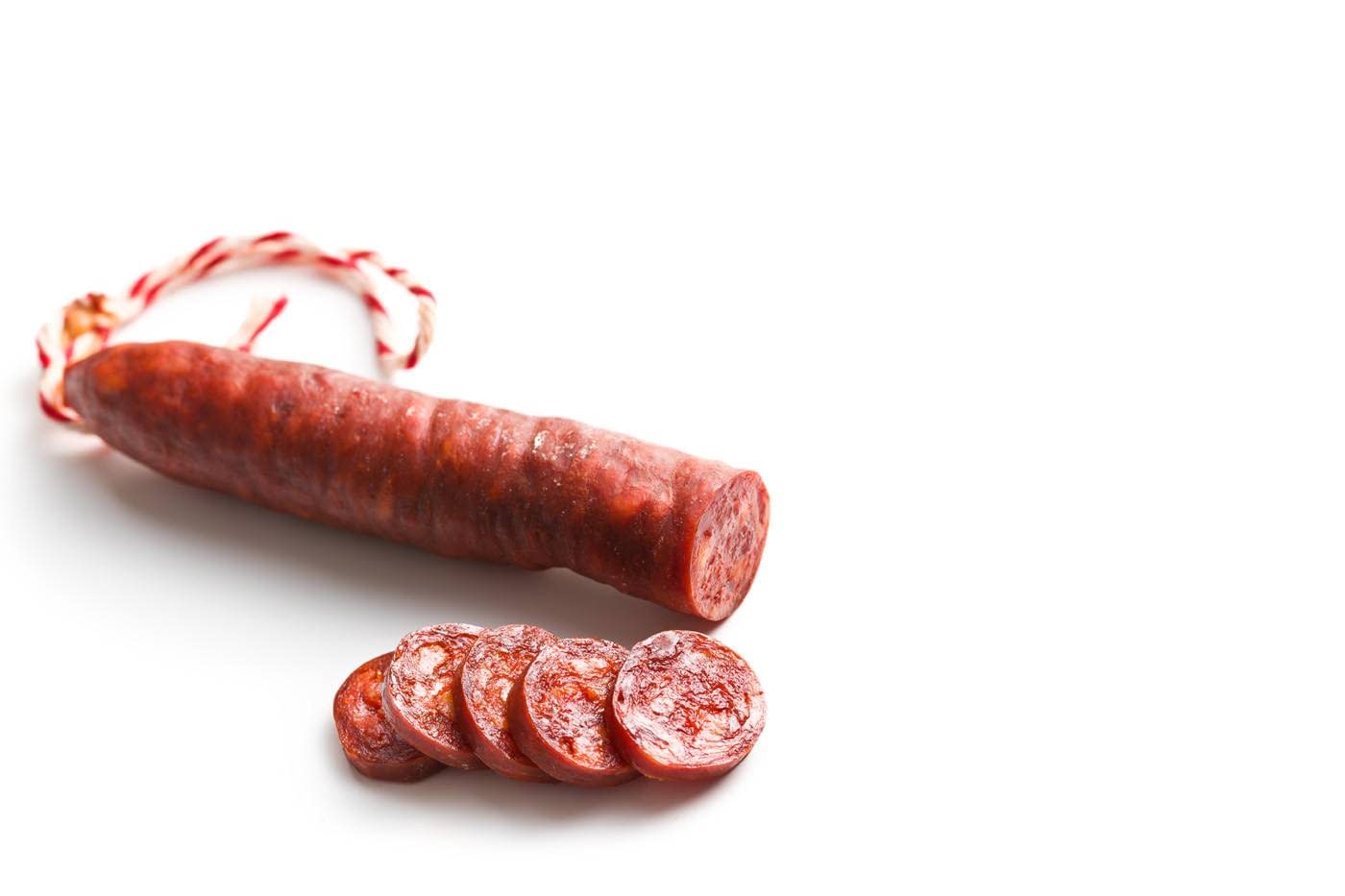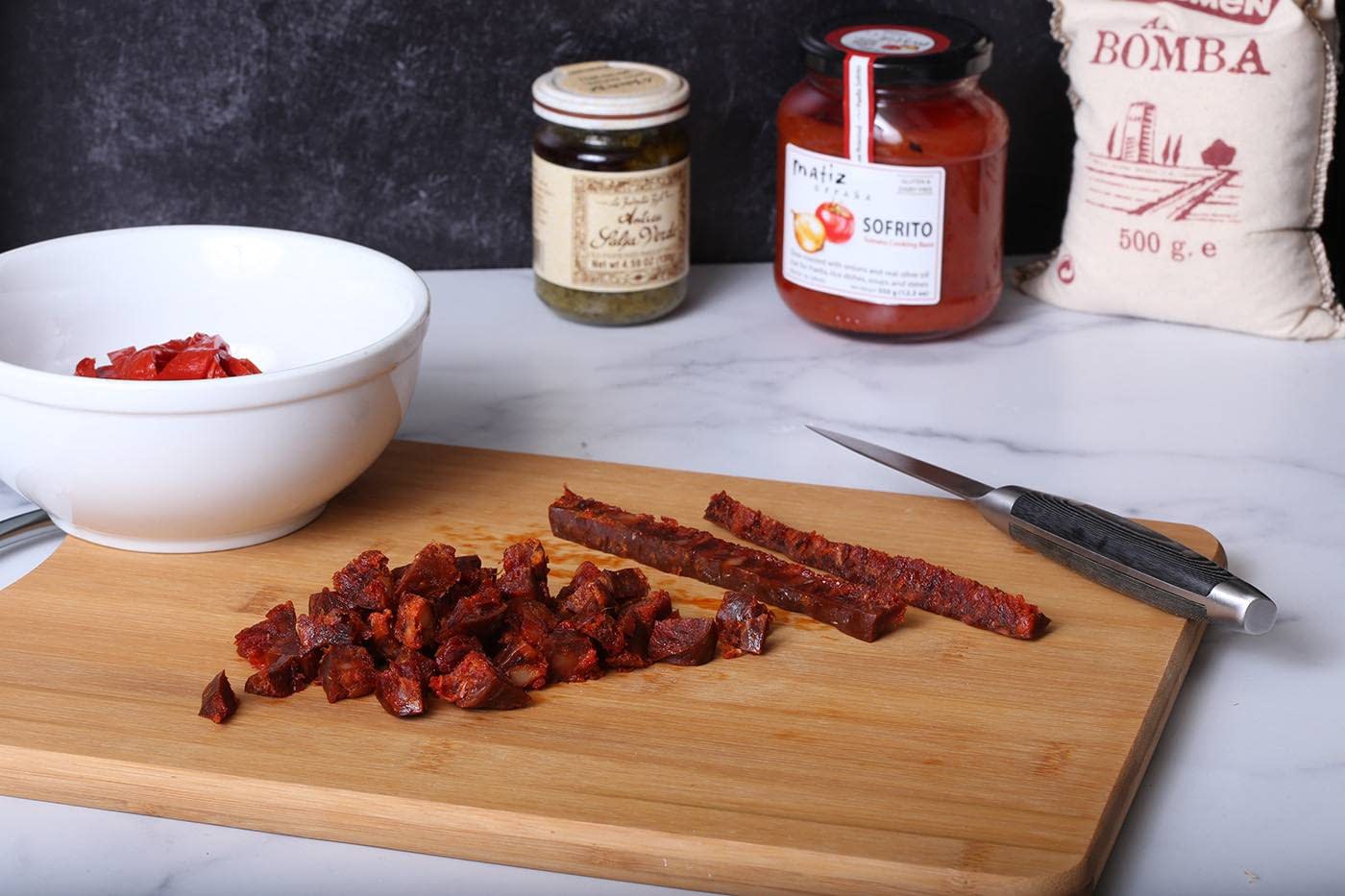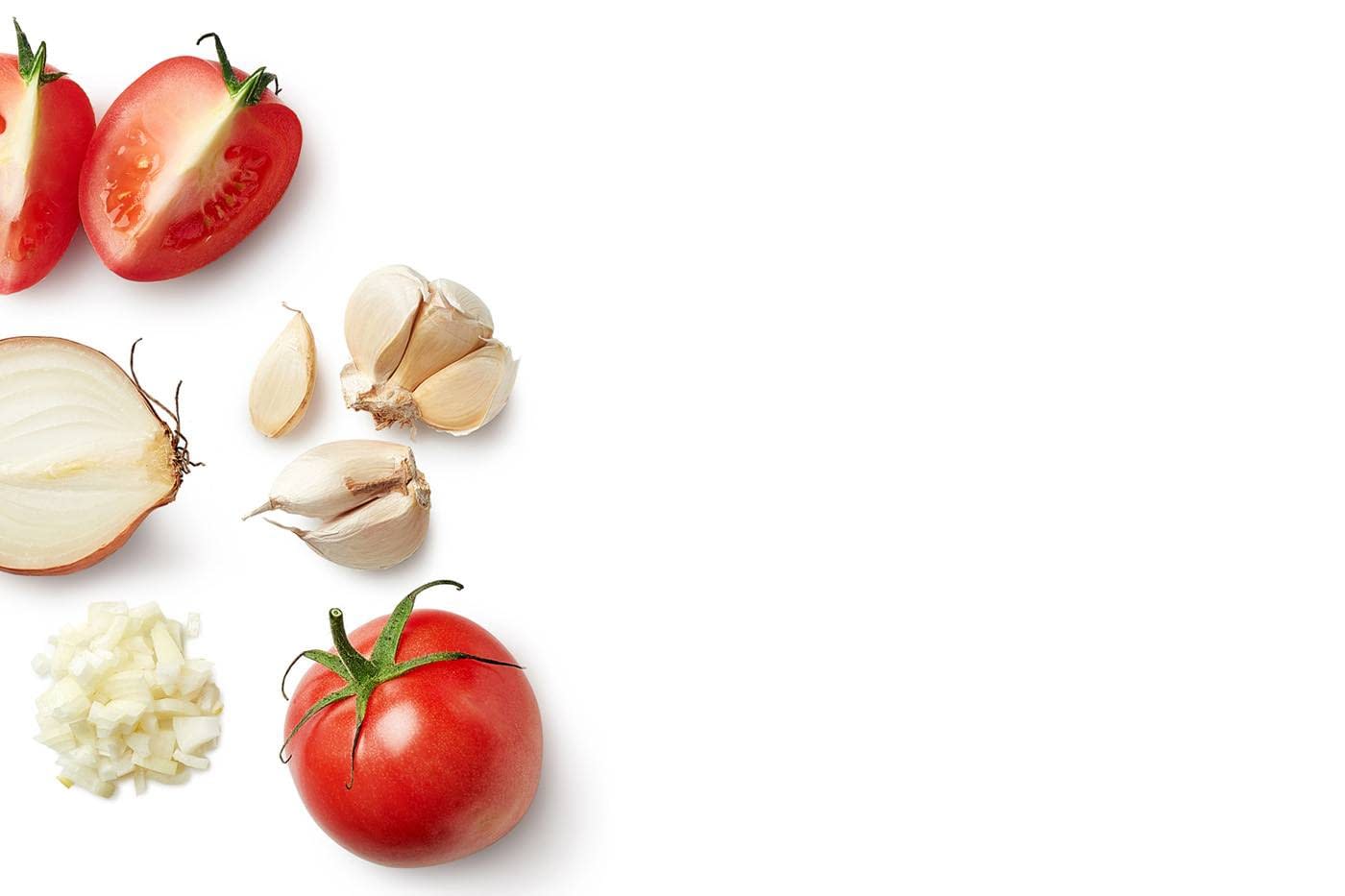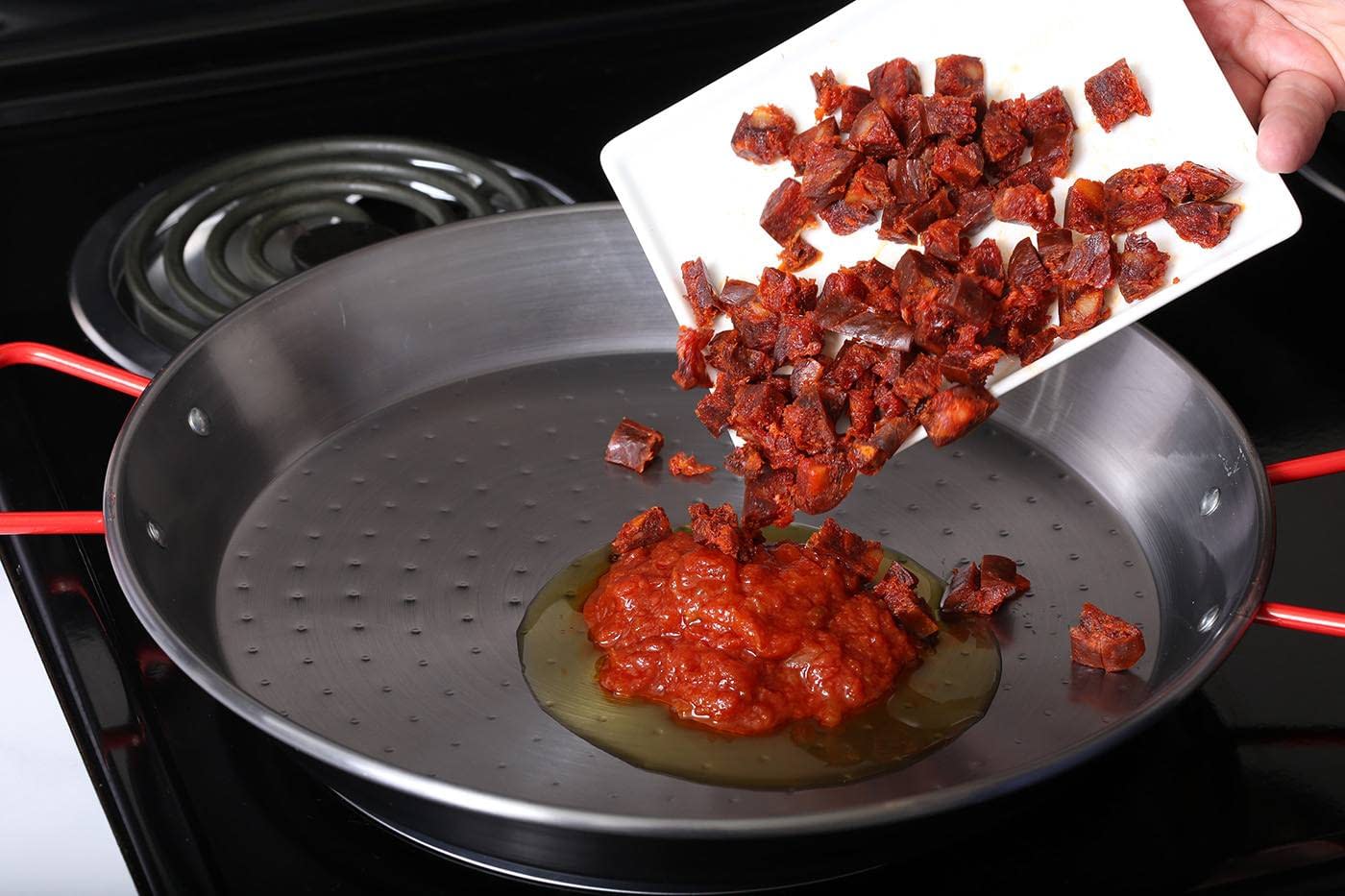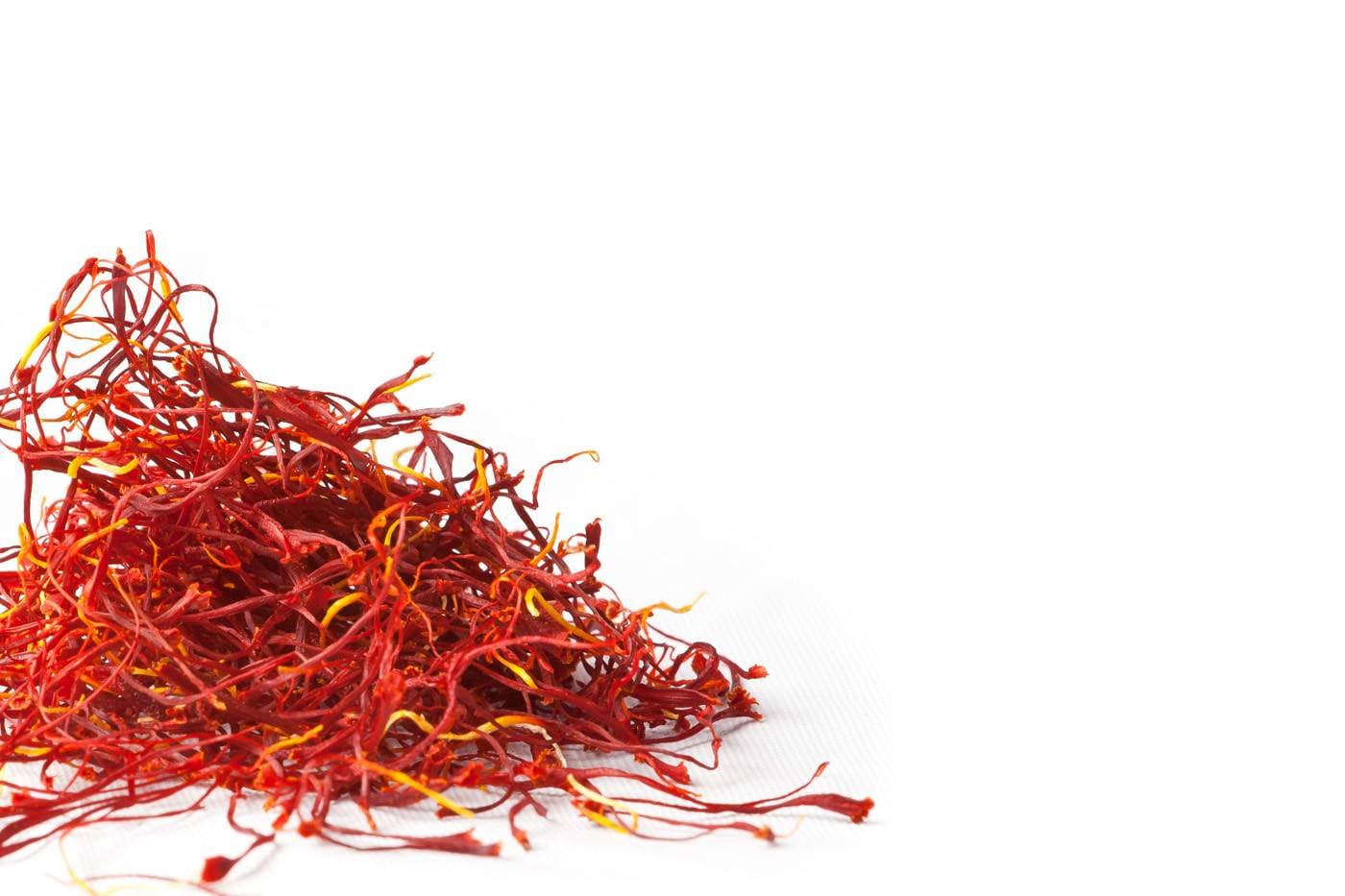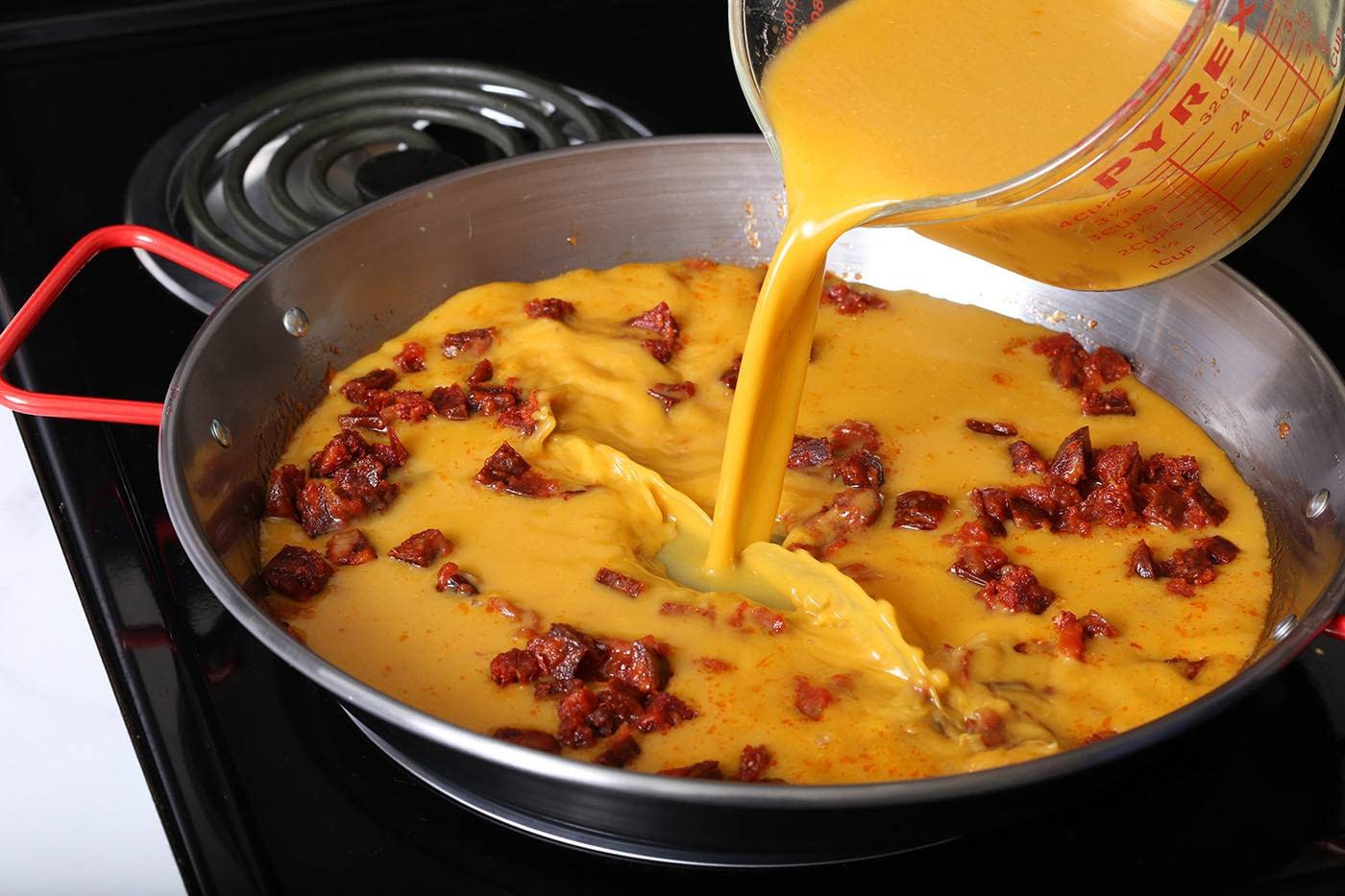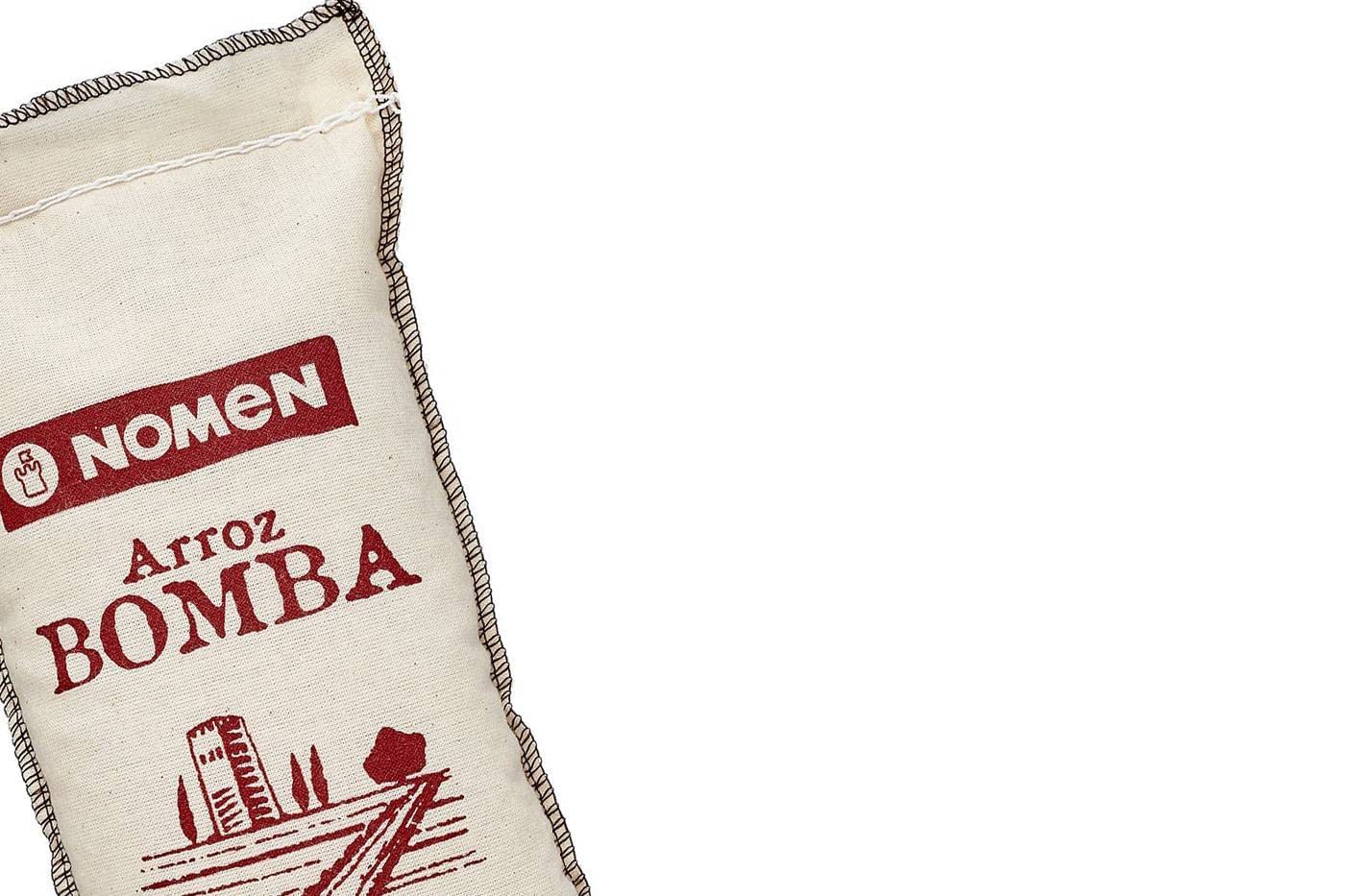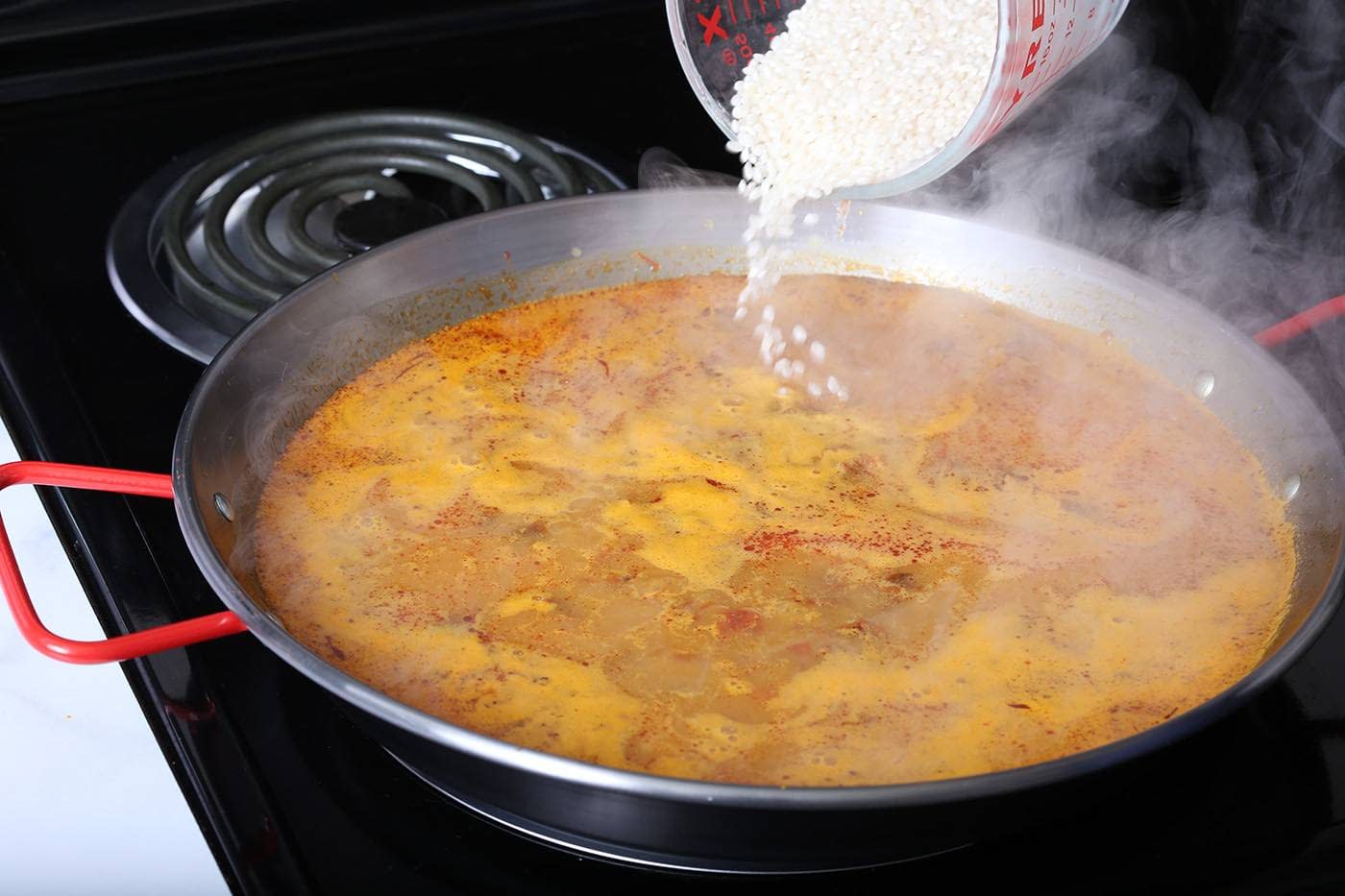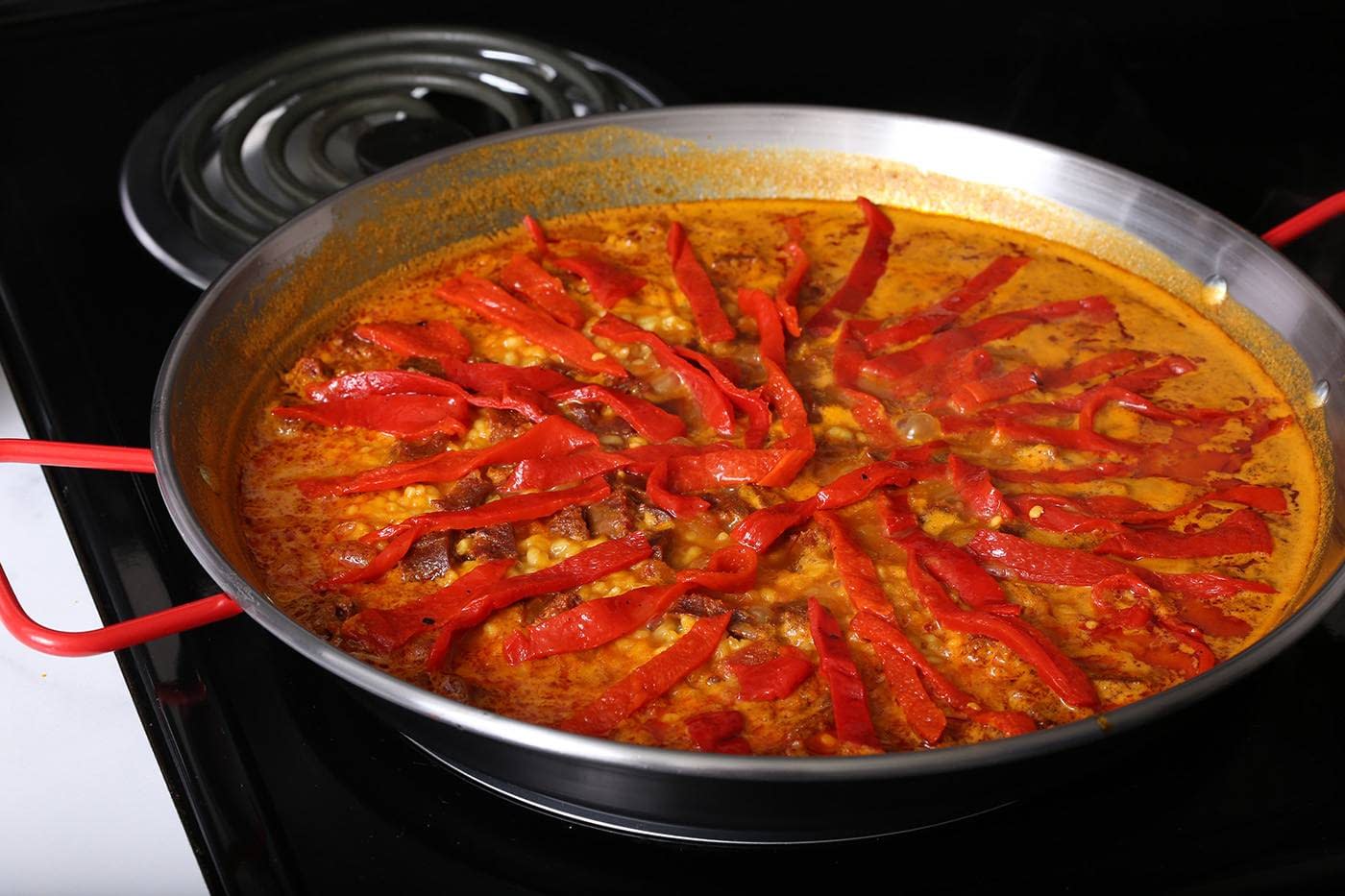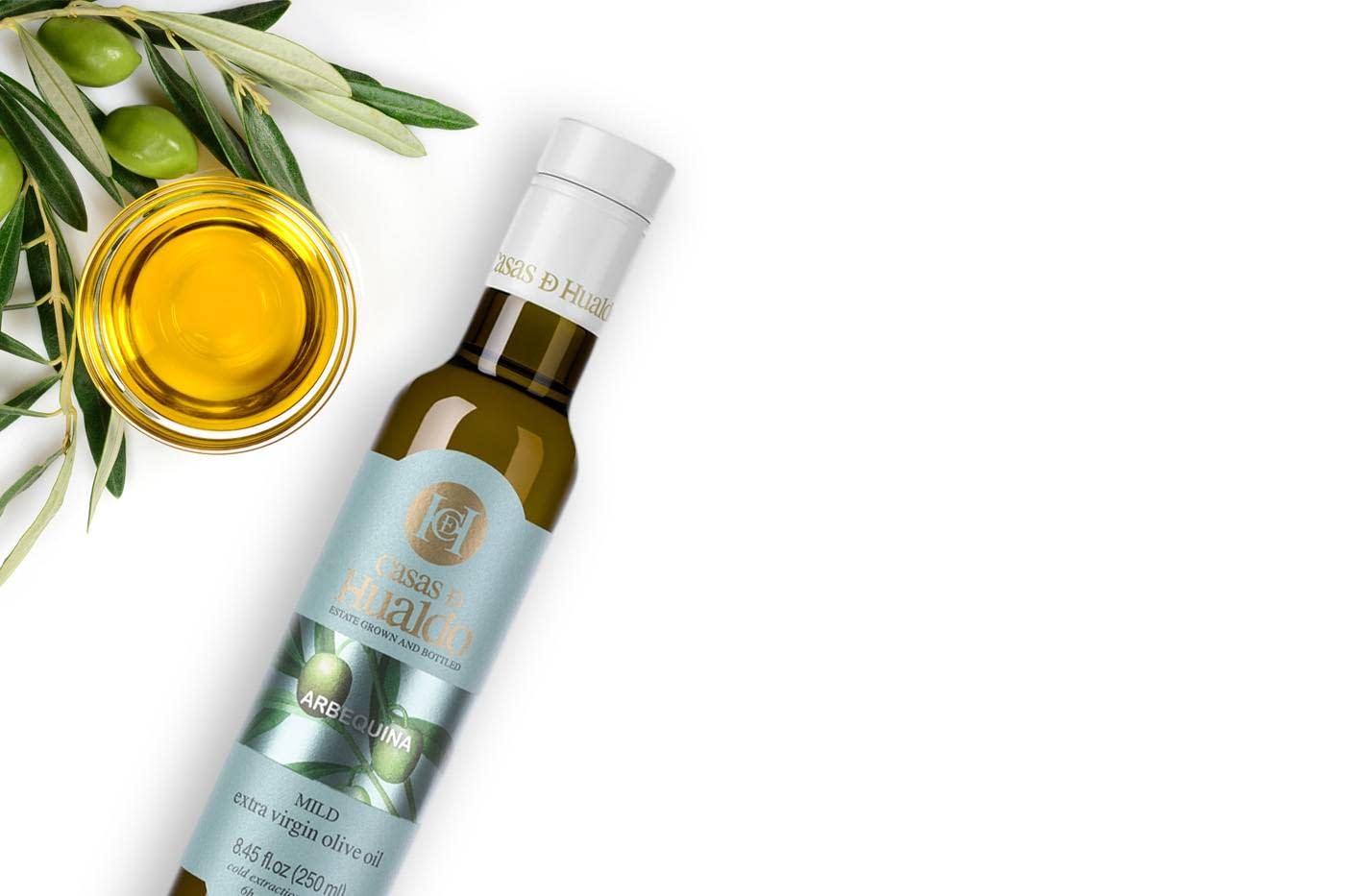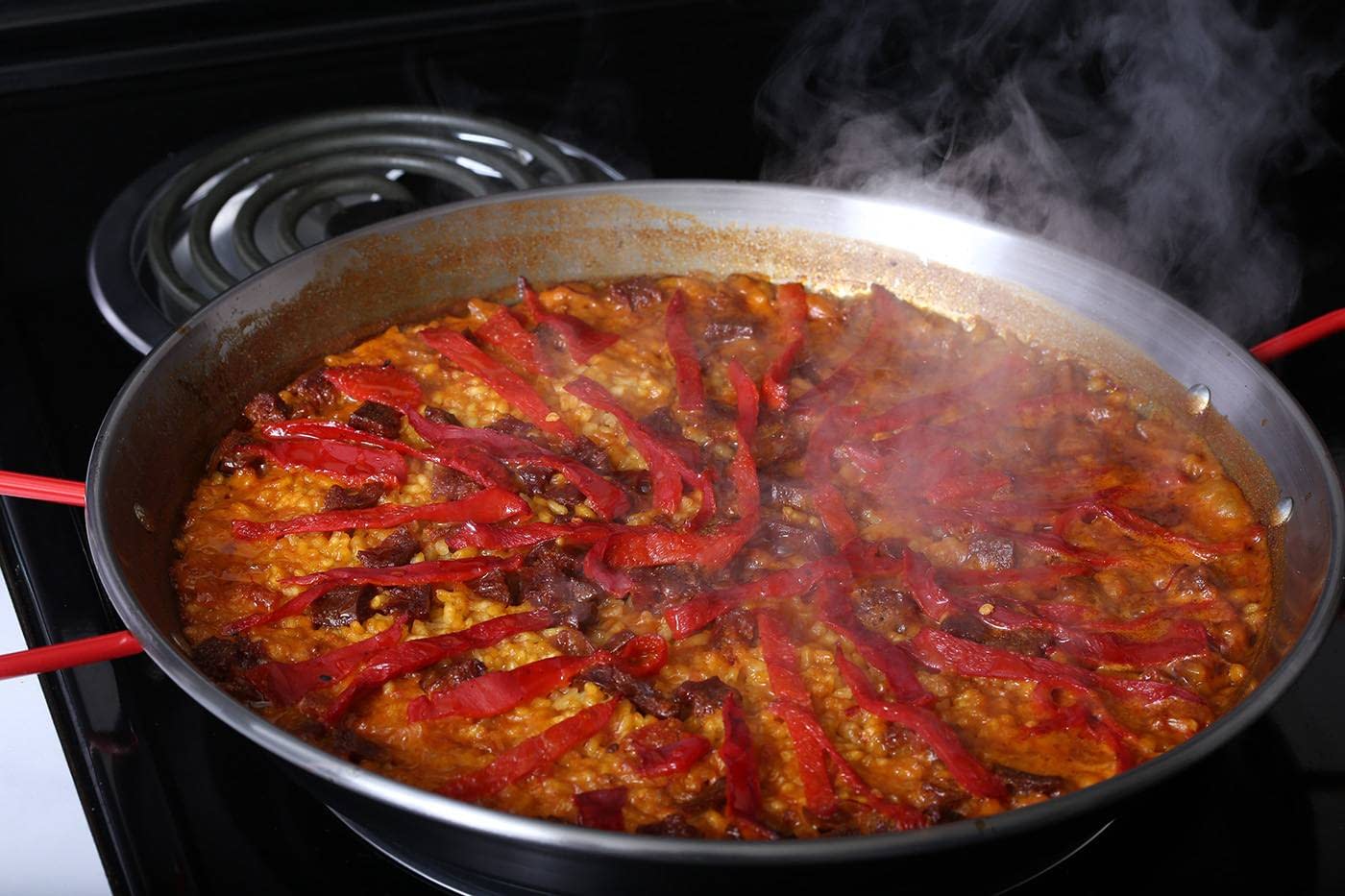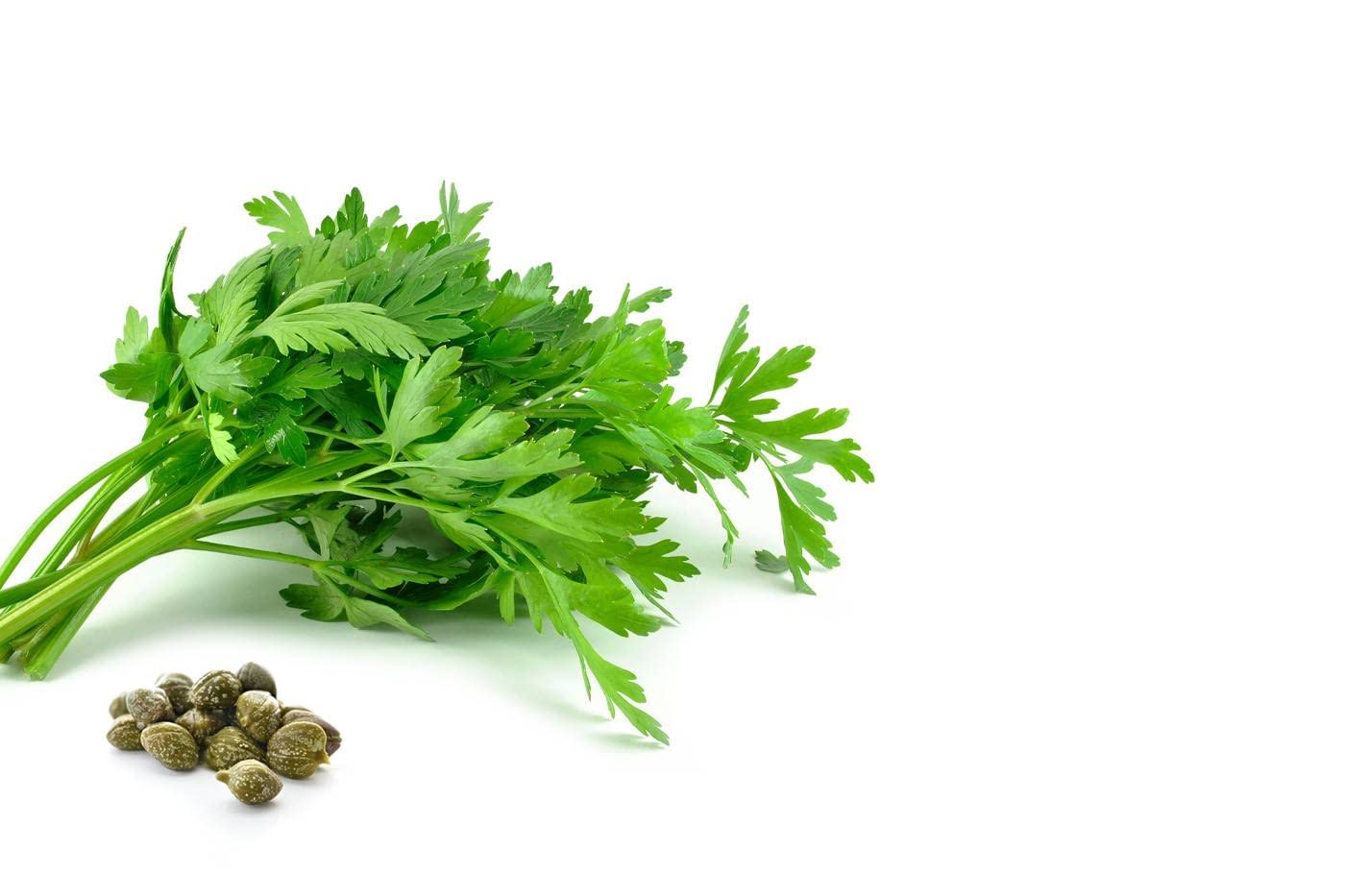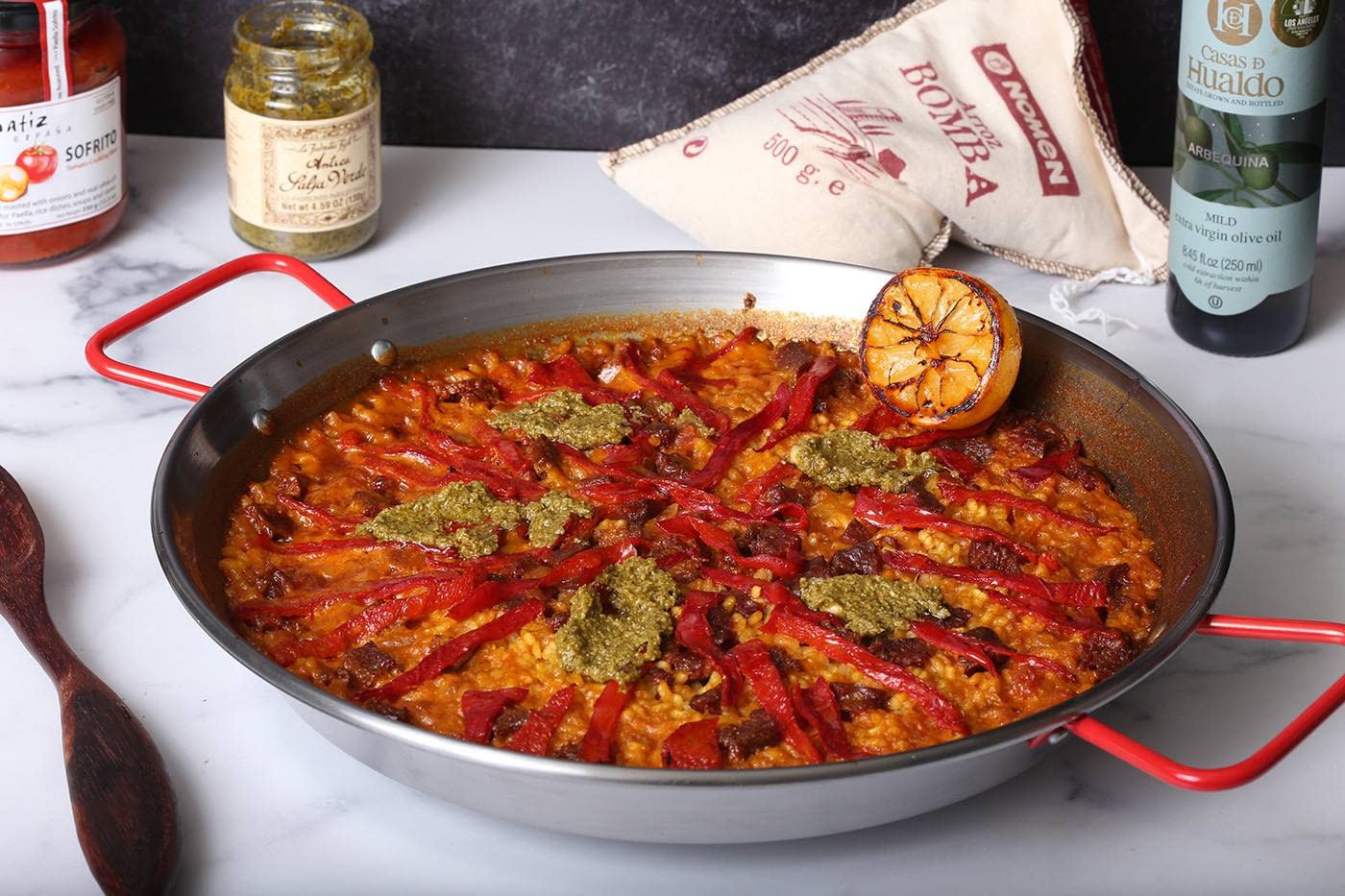 Paella Kit Intro

We hope this cooking kit for two brings the energy and passion of Boqueria to your kitchen! Included is everything you need to make our Chorizo and Piquillo Pepper Paella for two, even the pan! Click through the slides for the recipe!
Piquillo Peppers

Maria Jesus Piquillo Peppers from Navarra, Spain, are fire-roasted with acorn and oak flames, are peeled and jarred. Their sweet flavor is the perfect pairing to the smokey chorizo in this Paella.
Step 1

Slice the peppers into long, thin strips until you have ½ cup. Set aside.
CHORIZO PALACIOS

In Spain, dozens of cured chorizos hang from the rafters of every butcher shop. The bright red pork sausage gets its color and much of its flavor from pimentón (smoked Spanish paprika). The texture is firm and the flavor is smokey.
Step 2

Remove casing from chorizo and dice until you have ½ cup.
SOFRITO

This saucy blend of onion, tomatoes, and garlic is the foundation of Paella. It rounds out the flavor of the stock and provides a sweetness and depth to the grains of rice.
Step 3

In the paella pan, add diced chorizo, 2 tbsp of sofrito, and 1 tbsp of olive oil.
SAFFRON

Saffron is the dried stigmas of the crocus flowers that bloom each fall in the arid fields of Spain's Castilla La Mancha. The sunset orange threads impart a distinctive honeyed floral aroma, a unique bitter sweet taste, and the gorgeous hue in Paella.
Step 4

Add 24 oz of paella stock and 15 strands saffron. Stir and bring to a boil.
BOMBA RICE

Bomba, a short grain rice with a pearly color, absorbs three times its volume in liquid; packing each grain with the rich, savory flavors of the seafood stock, sofrito, and saffron.
Step 5

Add 1 cup Bomba rice. Cook for 5 minutes on high, then 5 minutes on low.
Step 6

Place ½ cup julienned peppers on top of the rice, taking care to distribute them evenly. Place the paella pan in the oven, pre-heated to 450ºF.
OLIVE OIL

Arbequina Casas de Hualdo is a balanced, fragrant, and fruity extra virgin olive oil. The addition in the last step of Paella forms the 'socarrat'; the crispy, caramelized crust at the bottom of the pan.
Step 7

When all the liquid is absorbed and the rice has started to dry out on top (approx. 5 minutes), remove the paella and place on the stove top. Drizzle paella with 1 tbsp olive oil. Cook for an additional1-2 minutes until the crispy socarrat forms at the bottom of the paella.
SALSA VERDE

This classic parsley sauce blends sweet olive oil with white wine vinegar and briny capers to impart freshness, complexity, and balance to this rich and savory Paella.
Step 8

Use a spoon to drizzle the salsa verde on top (approximately 2 tbsp) and squeeze a ½ cut lemon over the paella when serving.