Whether you're dining out at Boqueria or enjoying your meal at home in your Thanksgiving pants – Boqueria Beverage Director Kieran Chavez's guide to perfect pairings will ensure that your Thanksgiving dinner this year is one to remember!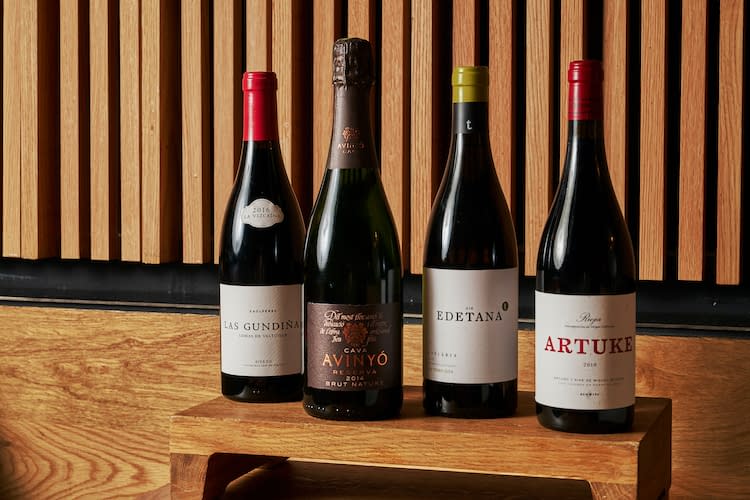 Come Thanksgiving, we always like to add a few Iberian touches to our favorite American classics on the table. Stuffing gets butifarra sausage and potatoes are whipped to a fluff with fragrant extra virgin olive oil. But the real magic happens when these dishes are paired with handpicked wines from our all-Spanish wine list. Corks are popped, palates are invigorated, and the conversation flows faster than the wine.
The true Catalan way to start any celebration is with Cava. In Spain, bubbles are synonymous with celebration and Cava, in all of its many forms (and pricepoints), can always be relied upon to produce beautifully complex flavors and bright bubbles. Traditionally produced in the northeastern region of Penedès, it usually only takes one sip of Cava to make us feel right at home.
When it comes to Cava, Kieran suggests Avinyó 'Brut Nature' – Brut Nature means zero dosage (no sugar added!), resulting in a broad, dry palate. This fantastic sparkling wine derives from a family of wine growers stretching back several generations.
Our Thanksgiving dinners typically start with a seasonal fall salad – this year Kieran pairs a salad of fennel, Mahón cheese, apples, walnuts, and citrus vinaigrette with the Edetaria 'Edetana' Blanco – This Garnacha Blanca is medium bodied and round, so it holds up to the acidity of this crisp fall salad. Hailing from Terra Alta in Catalunya, this wine exudes warmth, with exceptional fruit and hints of fennel and Mediterranean herbs.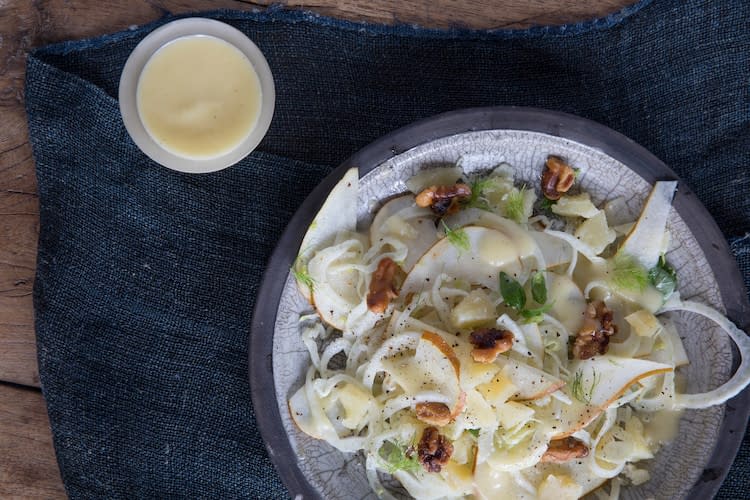 One of Chef Marc's favorite 'Spainsgiving' recipes pairs sweet acorn squash with toasted hazelnuts and sobrasada, a soft, spreadable cured pork sausage from Mallorca. When cooked, the rich, fatty sausage releases the intense aroma of the smoked paprika that gives it its bright crimson color. We slather the cooked sobrasada over rounds of the squash, drizzle it with local honey, and shower it in toasted hazelnuts and sharp Mahón cheese.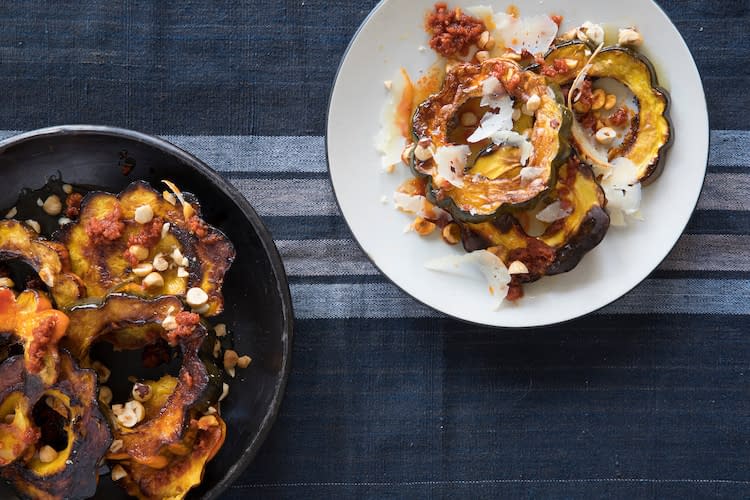 The flavors of this dish are outstanding and instead of pairing with a heavy red, Kieran instead recommends a beautifully light Rioja – Artuke. Its fruit-forward nature is the perfect complement to the rich sausage, while the carbonic maceration creates a fresh, easygoing palate pleasing wine that is both a crowd-pleaser and just plain delicious.
Alas, Thanksgiving wouldn't be what it is without the familiar flavors of roasted turkey, mashed potatoes, and earthy stuffing. To match these well-known flavors, Kieran suggests the Raúl Pérez 'La Vizcaína' Las Gundiñas – a single vineyard Mencía, from Bierzo, a region hailed as the 'Burgundy of Spain'. The warm fruit and a slightly more rustic edge make this a perfect wine for a robust Thanksgiving feast.
Whether you're celebrating the end of the meal with traditional apple or pumpkin pie, or something a bit more off the beaten path, Kieran suggests returning to Cava, so be sure to reserve a bottle or 2 in the fridge! It's versatile enough to pair with any dessert, light enough to help you through a 2nd serving, and perfect to enjoy on its own.