This "Catalonian Cesar" features a dressing created by thinning our thick Romesco sauce with olive oil and sherry vinegar. Romaine leaves are coated in the rich, nutty dressing and hidden under a cloud of smoky Idiazabal cheese. We toss on confetti of torn mint leaves and crushed hazelnuts to add some crunch and fresh notes. Top with boquerones for a closer spin toward a Cesar or add grilled steak or seared shrimp to turn it into a hearty lunch.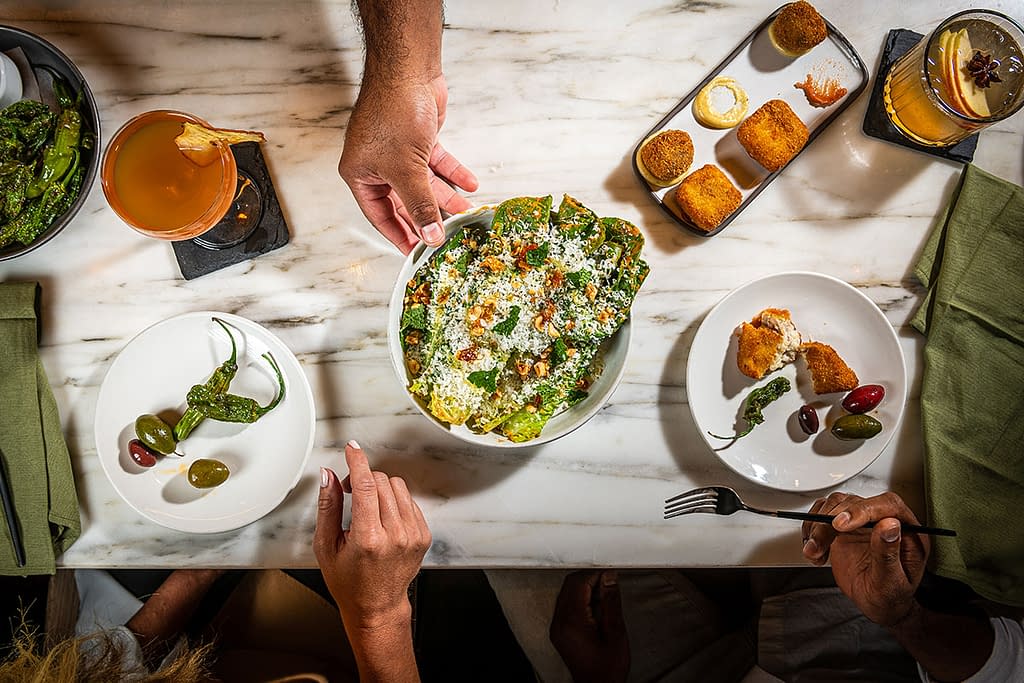 Ensalada Cogollo Recipe
Serves: 2 to 3
Ingredients
• 1 small head / 12-14 trimmed baby gem lettuce leaves
• 2 tablespoons Romesco Dressing (see recipe below)
• 2 tablespoons sherry vinegar
• 2 tablespoons extra-virgin olive oil
• 8 mint leaves
• 2 ounces Idiazabal cheese, finely grated
• 8 grams crushed caramelized hazelnuts
Whisk the romesco, vinegar, oil, and a pinch of salt in a large bowl. Trim the soft green tops off the lettuce and reserve for another use. Separate the leaves and place in the bowl with the romesco dressing. Toss with your hands until all the leaves are evenly coated. Transfer to serving plates.
Scatter the hazelnuts over the lettuce, then tear the mint leaves off the sprigs and scatter them on top. Finish with just enough grated cheese to cover the leaves. Serve immediately.
A Word on Romesco
Hailing from the seaside province of Tarragona in Catalonia, Romesco is a sauce originally created by fishermen. Fore-roasted tomatoes, garlic, toasted nuts, Nora peppers, and crunchy bread (to thicken) been together to create a hearty and savory sauce that is as versatile as the dishes it goes well with.
Romesco Recipe
Makes 3 cups
Prep 45 minutes
Total 3 hours, plus overnight soaking
Ingredients
• 2 dried ñora peppers
• 6 vine ripe tomatoes
• 1 head of garlic plus 1 garlic clove, peeled
• 1 cup extra-virgin olive oil, plus more for frying
• 6 (1⁄2-inch-thick) slices baguette (about 4 ounces)
• 2/3 cup hazelnuts, preferably skinned
• 1 cup loosely packed flat-leaf parsley leaves
• 3 tablespoons sherry vinegar
• kosher salt
Place the ñora peppers in a bowl and pour very hot (almost boiling) water over them. Let stand at room temperature overnight.
Drain the peppers and discard the stem and seeds. Use a spoon to scrape out the flesh. Reserve the flesh and discard the skin.
Preheat the oven to 450ºF. Line a rimmed baking tray with foil and place the tomatoes on it. Roast for 20 minutes, then place the whole head of garlic on the pan alongside the tomatoes. Continue roasting until the tomatoes are blackened and blistered and the skins on the garlic are browned, about 2 hours longer. The tomatoes should be very dry.
Meanwhile, fill a large skillet with enough oil to come 1/4 inch up the sides. Heat over medium-high heat until very hot. If you touch a slice of bread to the oil it should bubble immediately. If it doesn't, let it heat more. Add the bread in a single layer. Cook until golden brown, about 30 seconds per side. Transfer to a bowl.
Add the hazelnuts to the oil and cook, shaking the pan often, until evenly golden brown, about 1 minute. If they are already skinned, combine them with the bread. If they have skins, first transfer them o a clean kitchen towel. Wrap the nuts in the towel and rub vigorously to remove the skins. When cool enough to handle, combine them with the bread.
Remove the top 1⁄4 inch of the head of garlic. Using your hands, squeeze the soft roasted cloves into the bread and nut mixture. Using a blender, blend the ñora pepper flesh, tomatoes, roasted garlic, raw garlic clove, fried bread, fried nuts, parsley, vinegar, and 1 cup oil until the mixture is smooth. It will be very thick and there may be some tiny bits remaining. Season to taste with salt.
The romesco can be refrigerated for up to 1 week or frozen for up to 6 weeks.