…A BLANKET STATEMENT
Picnic food—there really is no better way to eat outdoors. There's a certain magic to taking simple ingredients best enjoyed in the sunshine and setting them down against a picture-perfect backdrop. And whether you're sitting down to feast on vibrant tomatoes paired with summer plums, a refreshing cucumber salad, or a board stacked high with crusty bread and artisan cheeses – we can promise you one thing: a picnic is not a truly successful occasion unless you have a huge mess to shake off of the blanket afterwards!
For your next summer soirée in the great outdoors, we recommend packing a mix of Spanish ingredients along with a few new favorites from our fresh summer market menu.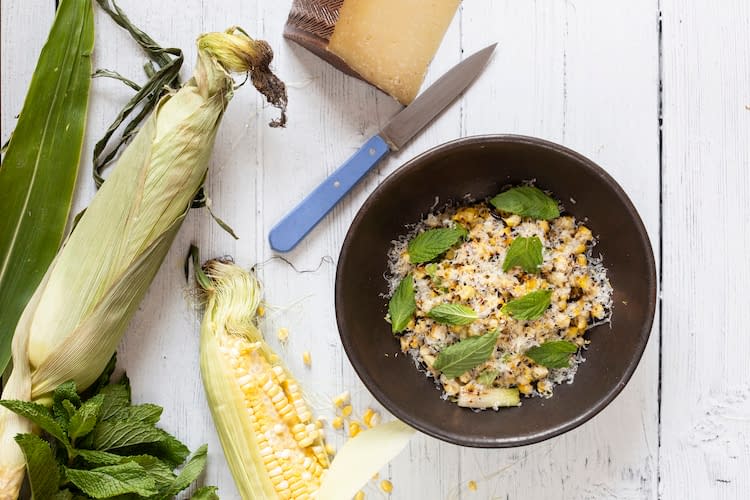 1. A-MAIZ-INGLY CORNY – Maíz Rustido
Since corn, while not commonly eaten in Spain, is so plentiful and delicious in North America in the summer, we love serving it up with a Spanish twist. For this dish, we turned to some of our incredible line cooks and drew inspiration from their Mexican heritage. The classic Mexican combination of corn with ground chilies, queso fresco, and lime is given a Spanish spin by swapping Manchego for the queso fresco and adding fresh mint leaves. Smoky and spicy, creamy and bright, this is an irresistible dish and a welcome addition to our summer picnic blankets.
2. NOM, NOM, 'NOM DE PLUM' – Ensalada de Tomates y Ciruela
When Chef Marc first arrived in New York, it was late summer and markets were at their peak, stocked with vine-ripened tomatoes, juicy summer plums, and multiple varieties of every fresh herb on earth. This quick salad of heirloom tomatoes, plums, red onion, and summer herbs is a delicious homage to Marc's first NYC summer. Inspired by the outdoors – this succulent salad is best enjoyed in the sunshine.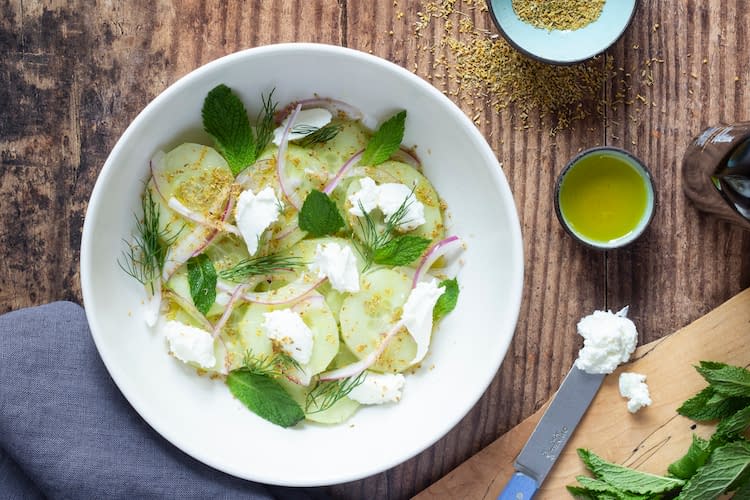 3. JUST KEEP HITTING 'REFRESH' – Ensalada de Pepino
Offering a variety of vegetable dishes is always a great idea for any picnic. And while hearty vegetable plates are usually a steady crowd-pleaser, it's this refreshing cucumber salad with bright mint and MitiCrema cheese that we can't stop dreaming about! This cooling salad is our go-to option when looking for a vibrant side dish to brighten up your picnic plate.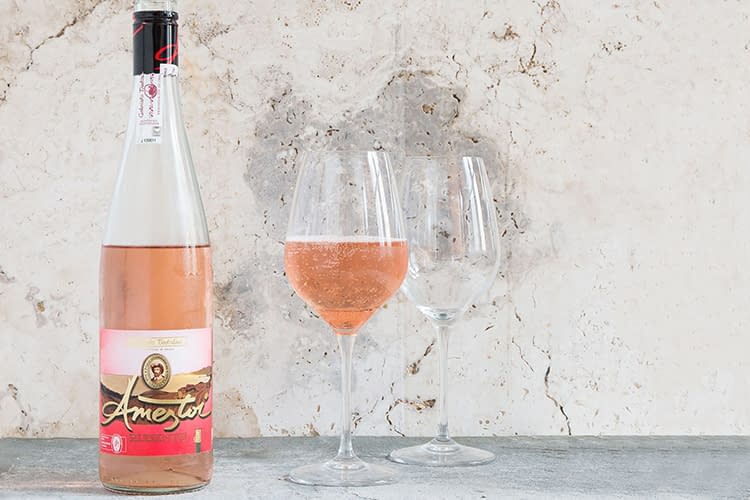 4. A SIP ON THE BRIGHT SIDE – Ameztoi "Rubentis" Rosé
Made from the Hondaribi Zuri and Hondarribi Beltza grapes in the Basque country of Getariako Txakolina, Ameztoi "Rubentis" is a gorgeous, slightly effervescent wine with a tart and refreshing finish – the perfect wine for outdoor drinking and pairing with light and bright summer foods.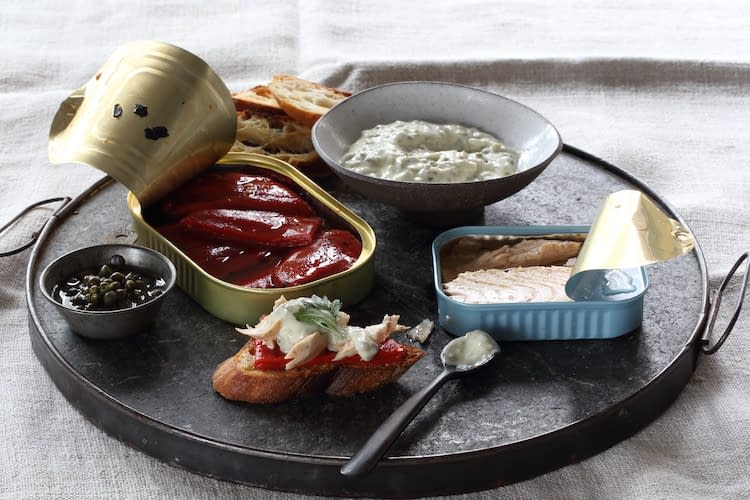 5. OH YES WE CAN, I KNOW WE CAN-CAN – Spanish Conservas and Canned Delicacies
Spanish picnics provide the perfect opportunity to change hearts and minds about canned seafood. Spain catches the most amazing fresh seafood and preserves it immediately, thus becoming known for the world's best canned seafood (conservas). It's truly a delicacy. Keep your pantry stocked with some cans of beautiful imported Spanish shellfish, octopus, bonito tuna, and sardines, and you will be able to pull off an impressive spread in minutes.
6. WATER YOU SO EXCITED ABOUT? – Vichy Catalan Sparkling Water
Hot days always call for crisp sparkling waters, our favorite bottle from Spain is the beautiful Vichy Catalan. Vichy is perfect for keeping hydrated, made from water drawn from the hot springs in Caldes de Malavella. It's slightly selenic and touts restorative properties.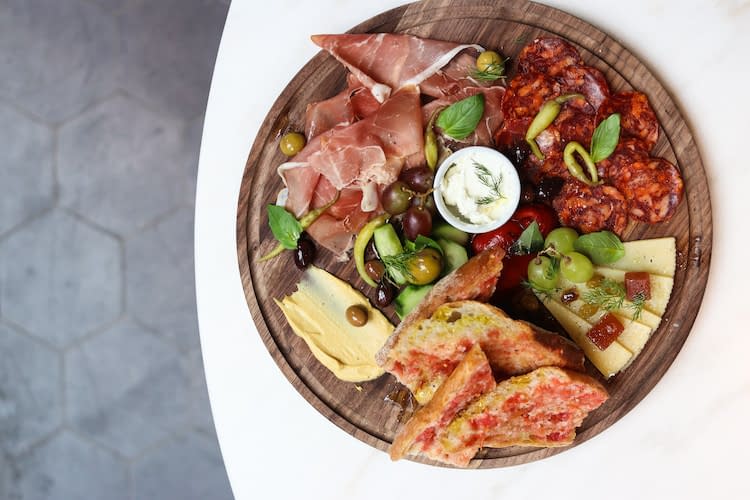 7. (CHEESE)BOARD OUT OF OUR MINDS – Tabla de Quesos y Embutidos
No picnic is fully complete without a mouthwatering cheese and charcuterie board – and luckily for us, this gives us a chance to create a spread featuring some of Spain's most delectable and prized ingredients:
Manchego cheese – A hard cheese is the safest bet if you want to be able to enjoy it all afternoon. We are ride-or-die Manchego enthusiasts, so our perfect cheese recommendation shouldn't surprise you!
Chorizo – This iconic bright red pork sausage gets its color and much of its flavor from pimentón. The texture is similar to a cured salami, but the flavor is much smokier. Here in the States, cured chorizo is easily ordered online or found in well-stocked markets.
Serrano ham – One of Spain's most famous ingredients: Jamón Serrano, can be spotted on essentially every menu across the country, hanging in market windows like tapestries and adorning tapas tables in every family kitchen. This classic delicacy is made from the hind legs of Spanish white pigs, either farm-raised or free-range and fed on a grain-rich diet. It is best served paper-thin, either on its own or accompanied by Manchego and olives.
Finish off this decadent spread with an accompaniment of Piquillo peppers, mixed Spanish olives, & crusty bread.